2012 Fashion Swimwear Trends
---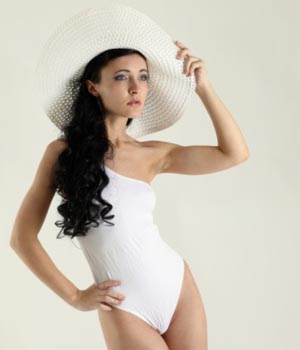 The hottest swimsuit trends for 2012 have hit the runway. With spectacular flair and incredible designs, the fashion swim shows have highlighted many of the upcoming trends. This guide will provide you with a preview on what to expect in fashion swim for 2012's spring and summer seasons.
Prints
Animal prints remain dominant for the second year in a row, while stripes are growing in both mainstream and swim fashion this upcoming year. Listed below are the 2012 trending prints:
Stripes: From skinny to thick, vertical to horizontal, expect to see stripes of every shape and color on the rack this summer.
Tribal: The untamed tribal print has been decorating the runway in every style.
Animal: Every upscale designer with have an animal print line this summer. The 2011 season saw an influx in animal prints and it's expected to continue into 2012.
Python: The snake skin design has slithered its way into the 2012 top swim prints. Daring colors and diverse designs will keep these unique styles popular throughout the year.
Colors
Bold, bright colors have been leading designer swimwear. Expect to see bold colors such as fuchsia, coral, cobalt, and aqua. Listed below are a few more color trends:
Neon: The beaches will be filled with daring neons this summer. The brighter the better!
Black and white: Complimenting hues of black and white are the popular posh style.
All white suits: The solid white suit will be trending in monokinis, one-piece suits, and bikinis.
Silhouettes
The luxurious monokini and classic one-piece dominated the fashion runways this year, but bikinis have stayed in the mix with some decorative embellishments.
Monokini: The daring monokini will feature solid white suits and one shoulder designs.
One-piece: The one-piece suit will be defined by shirred bodices, molded cups, and one shoulder silhouettes.
One shoulder: Thick, contrasting straps on bikinis, monokinis, and one-piece suits.
Retro: With high-waist bottoms, sweetheart necklines, shirred sides, and boyleg bottoms, the roaring 50s are making a comeback.
Start Trending Today
Along with new swimsuit styles and designs, there will also be improvements in shapewear. Figure-flattering designs such as ruffles, molded cups, and lingerie effects will be the foundation of swimsuit structures. With the new trends already making headway into the 2012 season, you can get your head-start on next season's hottest styles by shopping early.