Trend Highlight: High Neck Swimsuits
2016 Feb | By SwimOutlet.com Staff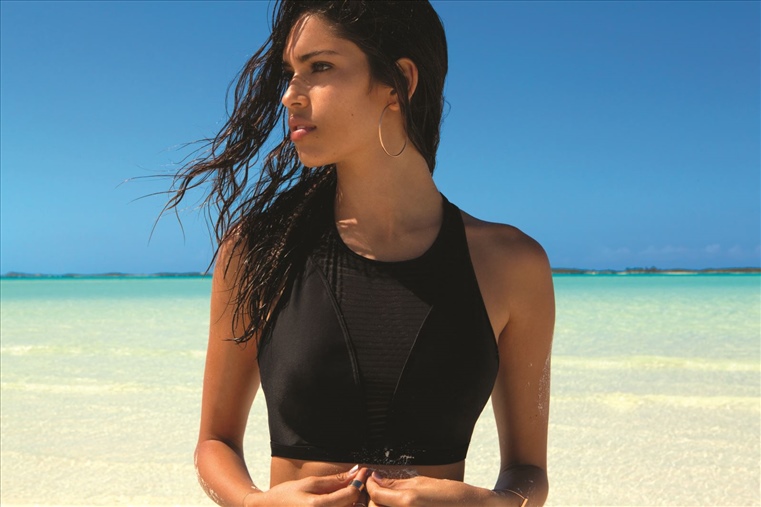 We've been told for so long that less is more when it comes to sexy swimwear – the tiny tris, skimpy monokinis and Brazilian cut bottoms. But, this season, we're seeing that less isn't always more (bigger busted babes rejoice!). Say hello to the high neck swimsuit. From racer back bikini tops to sleek one piece suits, high neck suits are taking over the swim scene.
We love seeing new style trends pop up, but seeing a new silhouette is even more exciting. High necks are coming in all patterns and fabrics, from sleek solids, mesh insets, and bright prints to crochet details, racer backs and halters. Here are a few of our favorites.
Ella Moss Zaire High Neck Wrap Crop Bikini Top
This top isn't just a high neck, it combines a bold geo print, a racer back design, a cutout at the front, and a sassy wrap detail. Plus, who doesn't love a sexy black and white top? (Answer: no one.)
The name might be a handful, but this suit is not. It may be solid black, but the sleek silhouette, low-cut back and shiny gold bar detail make this suit anything but basic.
Billabong Totally 80's One Piece Swimsuit
This suit is the epitome of sporty meets sexy. The sleek one piece silhouette and racer back have a scuba-feel, but the bright, on-trend print keeps it looking stylish. Add in a cheeky bottom? We're sold.
Raisins Walk This Way Lotus Top
This high neck top combines two trends: high neck and crochet. This top may have a high neck, but crochet inset keeps the neckline looking a little sassy. And we're all saying, yes please.