Planning a Fall Beach Picnic
2015 Oct | By SwimOutlet.com Staff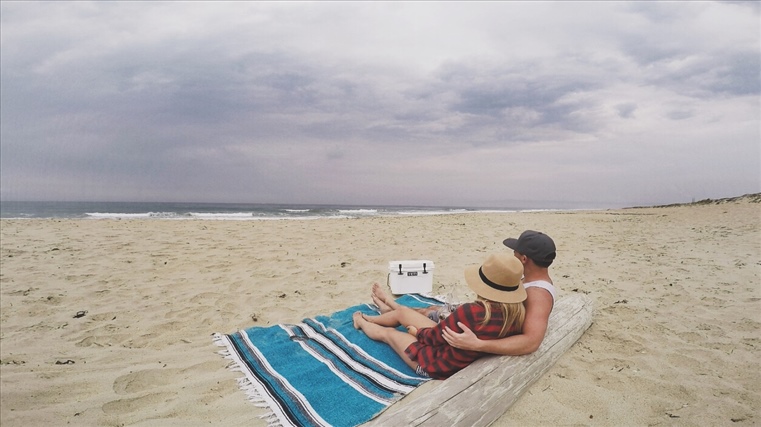 Grab your mimosas, load up your cooler and unfold your beach blanket—we're taking the picnic to the sand this fall. Although the beaming sun sets a little bit earlier, and the salty breeze feels a little (OK, a lot) cooler, fall is the perfect time for some first class beaching. Here's how you can bring your A-game this season;
First and foremost, get your picnic basket out of the depths of the hallway closet (duh!). Conveniently, most picnic basket sets come equipped with utensils, plates and napkins—although you may want to add your own if you're planning a full-on fiesta. Don't forget the red cups!
Since no one wants a sandy sandwich, we're big advocates for beach blankets. Our favorite? The authentic Mexican beach blankets. These handmade beauties are large enough to host all of your best babes, their baguettes and brews. More often than not, a thick layer of fog encompasses the beach-- pack an extra blanket (or two) for warmth. Hint: beach blankets are the perfect backdrops for those insta-worthy photos (trust us).
Aside from the obvious essentials, there are a few odds and ends you should stuff into your tote on your way out. Sunscreen—don't let the overcast skies fool you (they're sneaky), you will get toasty if you forget the SPF. Just incase the sun decides to make its debut and steal the show, we're loving wide-brim, felt hats for extra fall vibes. Speaking of vibes, don't forget the tunes. SunnyLife makes the perfect little speaker case, and it rocks (literally).
So now that you've got the ideal picnicking set up, what do you do once you get there? I know what you're thinking—eat and relax, right? Sure, that sounds nice, but most 20-somethings would get bored 90 minutes in. We suggest bringing along games—wiffle ball, a Frisbee, beach paddles or even a deck of cards. If you're feeling super adventurous and you want to take your picnic to the edge of the shore, stop by your local surf shop and rent a couple of stand-up-paddle boards (and wetsuits, you'll thank us later).
You may be exhausted (and cold) after a jam-packed day of fall fun, but they say everything gets hotter when the sun goes down. After watching the sunset (and snapping way too many photos), cuddle up by a bonfire and roast some s'mores.
Planning a beach picnic this fall? Show us your photos by tagging us @SOStyleSwim on Instagram.