Ladies of SO Style
2015 May | By SwimOutlet.com Staff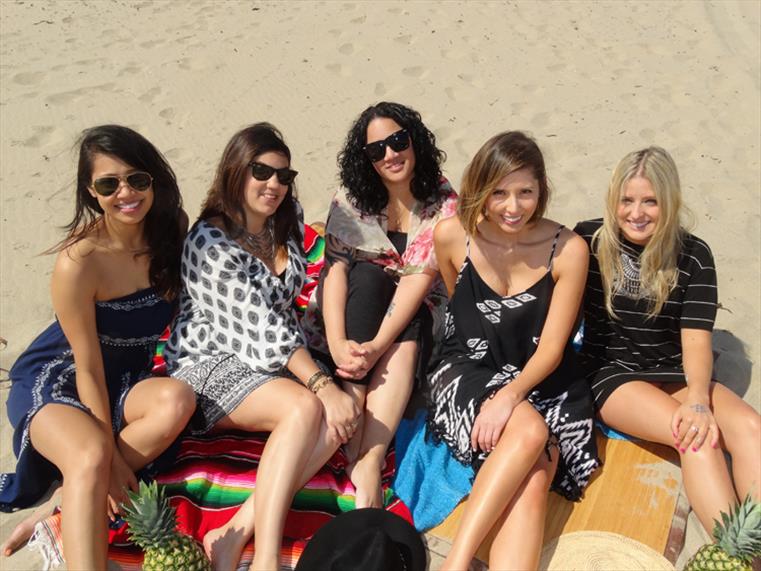 From left to right: Janelle, Elaina, Jessica, Alanna, Jordan
The thing that makes a team successful is realizing that you are in fact a team. Everyone brings something unique to the table and that makes what you are doing that much more powerful and amazing. That's what we have here at SO Style! This blog is not about one persons view, it is a diverse group of women, with all different perspectives, who collectively have a love for fashion, beaches, food, sun, bikinis, and everything in between. Let's meet them...
Jessica:
What was the last book you read?

The Alchemist by Paulo Coelho. I just finished it last weekend. It's an amazing book that I think everyone should read at some point in their life.
Name your top 10 favorite albums.

That's a hard one but if I HAD to choose they would be the following (in no particular order):
1. Debut, Post, & Homogenic/Bjork (that's 3 but I can't choose just one of her's!)
2. Kid A/Radiohead
3. Black on Both Sides/Mos Def
4. Tawk Tomahawk/Hiatus Kaiyote
5. ALL albums by Michael Jackson
6. Mama's Gun/Erykah Badu
7. Roseland,NYC Live/Portishead
8. Fantastic Vol. 2/Slum Village
9. White Blood Cells/The White Stripes
10. The Sound of The Smiths/The Smiths
Jordan:

If you could only use one social media outlet what would it be and why?
I would use Instagram, I love being able to show people what I'm up to through a curated mix of fun photos. #doitfortheinsta
What is your favorite movie and why?
I don't have a favorite movie...I'm not a big movie-watcher (next question? LOL). Maybe The Little Mermaid.
Elaina:

If you could only have one artist/band on your iPod who would it be and why?
My music moods change daily. But at this moment, if I could only listen to one artist it would be the Foo Fighters. They're one of my favorite bands of all times and their style has changed so much since their first album, I feel I would have a good mix of music to choose from.

What/who motivates you daily?
Lately, my upcoming wedding! Not only is it a big day for my fiance and I, but we're also going through so many major changes because of it. It's been helping me want to eat better, to exercise more, and to really focus on my priorities and to see what is and isn't important in my life.
Janelle:

What item would you never leave the house without?
Besides the essentials (purse, keys, wallet, etc...) I actually never leave the house without my black lace hand fan! I collect a bunch of fans from wherever I travel to & I switch out fans for different outfits just as like any other accessory! You just never know when its hot out and will need to cool down =)
You are stranded on an island and can only have one thing? What would it be?
I would rather have someone versus something to be stuck with on an island. As long as I have a great company i'll be fine!
Alanna:
If you could only have one artist/band on your iPod who would it be and why?

I'd have to say Drake. Pretty much every song of his I'm like OMG – I totally feel you, Drake!!

What was your favorite trend of all time?

Leggings!!! Best invention of all time!! Mostly because I'm lazy and they are so comfy – you can't go wrong with them.