DIY Adult Valentines
2016 Feb | By SwimOutlet.com Staff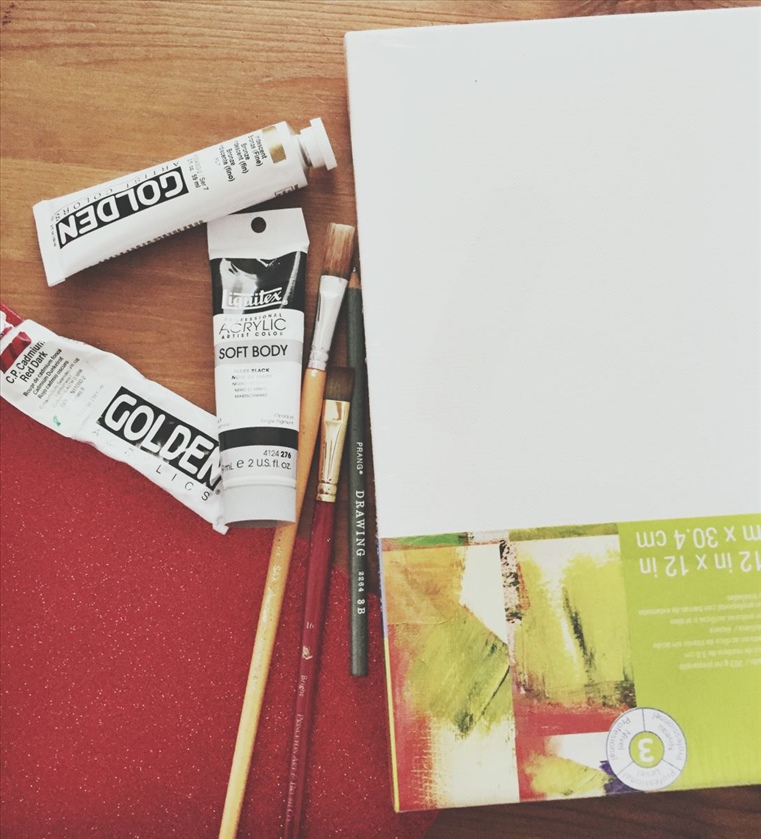 Valentine's Day always brings us back to grade school, when you would get those cute, paper valentine's covered with your favorite movie or TV show characters and a little bag of candy attached. As adults, we rarely get those fun surprises but, who ever said being an adult means no more candy?
Well, not me! I love to get gifts as much as we like to receive them, and this year, I wanted to do something special for my husband, so I thought I'd surprise him with an adult Valentine's Day gift.
The first step was to make my own card for him. If you're anything like me, you're tired of the same 'ole boring cards that get tossed in a drawer or box. So, why not make a Valentine 's Day card that you can actually use? You only need a few supplies and about 30 minutes of time for this.
Here's what you'll need:
- Canvas (size is up to you!)
- Two or three acrylic paint colors
- Wide paint brush (for the stripes)
- Thin paint brush (for the writing)
- Foam sheet with adhesive back
- Scissors
- Pencil
- Ruler
- Painter's tape (masking tape works, too!)
- Heart stencil (optional)
The first step was to measure out stripes in even increments. (I used a 12" x 12" canvas, so each stripe was 1.5" wide.)
After using a pencil to draw out the lines, I used the masking tape to tape off every other stripe. (Hint: paint the stripes with the lighter tint first. If you mess up or end up out of the lines, you can cover it up with the darker color paint.) Once the stripes were taped off, I used my first color of paint to paint the first set of stripes.
While this was drying (you really only need to let it dry for about 15 minutes), I set the canvas aside and cut out the heart with the adhesive foam. Don't have a stencil? No problem! I didn't have one either, but the internet does! I just searched for a free heart printable and there were hundreds of images to print out! I found a printable with a 5" heart, which worked perfect for my 12" x 12" canvas and printed it out. After cutting out the heart stencil, I taped it to the foam and cut around it. (You can also draw around the stencil, but because I chose a sparkle foam, the pen didn't come out well on the foam.)
I set the heart aside and came back to the canvas. As long as the paint is dry to the touch, you can carefully remove the tape. Next, tape up the second set of stripes and repeat the painting with your second color.
Let the canvas dry for another 10 to 15 minutes and once the paint is dry to the touch, remove the backing to you foam heart and place carefully in the center of the canvas.
The last step is the verbiage you want to add at the bottom corner. You can either use one of the two paint colors you used for the stripes or a third color (I used a red color to match my heart). If you're not comfortable with writing in paint, you can always buy letter stencils to use.
Now that we have our adult valentine finished, we need the candy! I found a creative and easy way to give my husband his favorite candies – and I get to use what's left to decorate my house! Here's what you'll need:
- Two Mason jars of differing sizes
- Matte acrylic paint
- Wide paintbrush
- Ribbon
- Elmer's glue
- Candy!
I took the largest jar and painted the jar with two coats of red paint. (You can use one coat if you want more sheen coverage.)
While the jar was drying, I took ribbon and cut a piece large enough to wrap around each jar lid. Wrap the ribbon around the lid edges and use one drop of glue to secure the ribbon in place.
I took my husband's favorite candies and filled the jars up. (Hint: the smaller jar that was unpainted can decorate itself by using only red candies!)
And, that's all it takes! I know my husband will love the thoughtfulness (and the candy) and I love that I can re-use these items to decorate!