Technical Suit Guide - Speedo Fastskin, FSII, Aquashift and more at SwimOutlet.com
2007 Feb | By SwimOutlet.com Staff

What is a Technical Suit?
Fit, Fabric, Function - Speedo, TYR, Nike, Arena, Finis
---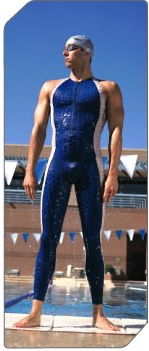 For swimmers worldwide, Speedo is a household name, and their revolutionary technical suits have elevated the sport of swimming. In the 2000 Sydney Olympics, 83% of all swimming medals were won by swimmers competing in Fastskin. This speaks volumes of its quality and dependence. Their patented Fastskins are Olympian favorites and the XD Skin is ideal for those serious swimmers who seek a water-repellant suit.

Speedo Fit
These suits are designed to fit extremely tight. For Fastskins, make sure you consult the size chart due to slight variations between Fastkin I and II. It is typical for swimmers to size down one in a technical or competitive suit, and Speedo adjusted their sizes accordingly with the introduction of Fastskin IIs. The sizing runs about a size smaller to avoid swimmers deliberately ordering a smaller size. For Speedo XD Skin, it's recommended to order your normal competition size. They may run a tad smaller for some, but it's not necessary to size down.
Speedo Fabric
The patented Fastskin fabric is designed to fit like a second skin, with seams and fabrics intentionally positioned to maximize the flow of water over the body to minimize drag. Utilization of two technologies, the Neutraliser and the TMS (Turbulence Management System) differentiate Fastskin from the competition. The Neutraliser is a special 3D titanium silicon scale adhesively applied to the forearm, allowing the swimmer to 'feel' the water like one would with bare skin. The TMS consists of 3D titanium silicone vortex riblets, similar to raised dots, designed to reduce drag caused by the natural motion of the human body. Also, small shark-like denticles are meticulously placed throughout the suit to help water seamlessly move over these areas to further help reduce drag. If you love the water, Speedo has created the XD Skin so you the water won't wreak havoc on your suit. It's made from a Lycra-based water repellant fabric that doesn't absorb harmful chemicals, thereby increasing longevity. It absorbs less water than its counterparts, resists mold by drying faster, feels lighter in the water and does not have that icky 'pool' odor due to a slow-drying suit.
Speedo Function
Like that little black dress hanging in the closet, Fastskins should adhere to the Special Occasion rule. They are not meant to be worn repeatedly for practice or training. They are for competition ONLY, and have a life of 10-20 wears depending on proper care and water elements. When you first take your Fastskin out of the box, it may not lay totally flat on the ground or the legs might slightly twist. Not to worry, this is normal behavior for a suit initially. Fastskins are proven to reduce drag and are Speedo's racecar of the swimming world.

XD Skins have a slightly longer suit life, and can be worn for about 20-30 swims with proper care and ideal conditions. Its quick drying fabric is ideal for triathletes who want a suit that is tri-functional. XD fabric reduces skin chafing for bikers and its elasticity is ideal for runners who want a stretchy fabric.
---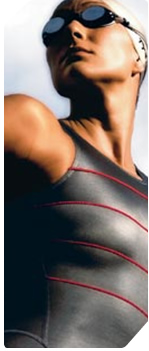 TYR (pronounced "tier") has quickly become an American favorite. Their two technical suit lines, Fusion and Aqua Shift are lab tested to be scientifically confident that TYR's suits have a competitive advantage.

TYR Fit
TYR's suits are designed to fit like a glove over your body—to assist with decreased drag, increased speed, and winning in mind. It's recommended to order your normal suit size in the Fusion line, and order UP a size in the AquaShift line.
TYR Fabric
The Aqua Shift fabric significantly reduces wave and pressure drag through the use of Tripwires. TYR's group of specialists is the first manufacturer ever to decompose drag. Scientifically speaking, they aim to create the most hydrodynamically efficient suit on earth. The three tripwires are placed deliberately on the three places that need it the most- one at the top, one on the back, and one at the bottom. These are scientifically designed to deflect and propel through water when turbulence occurs. Also, the fabric goes through several treatments, including a thermal heat application whose end result is a smooth-as-silk water repellant finish. The Fusion2 technology utilizes TYR's water repellant coating, silky smooth finish to reduce drag and Turbulence control. Coupled with their stapled innovations, Fabrication Logic and Fluid Channel Dynamics, water will gracefully slide over the fabric, granting swimmers superior flow. These suits have been tested by scientists, athletes, and every day people to make it one of the best picks on the market.
TYR Function
TYR has designed its technical suits to be one of the fastest in the world. They are one of the highest quality lines available to competitive swimmers. The life on these suits should be about 10-20 wears, depending on how well you take care of your suit. Definitely only wear your suit during heats, and rinse immediately after.

---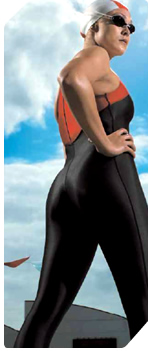 Nike maybe somewhat new to swimwear design but they are no stranger to the sports world. Their technical suit line, called Hydra, is steadily gaining upon competitors and is already endorsed by many Olympic and professional swimmers.

Nike Fit
Nike suits, competition and technical, fit 1-2 sizes larger than other brands. PLEASE consult the size chart to see which suit size is appropriate for you. Most brands use normal numerical sizing—if you're choosing a size 32 suit, it's either a 32 inch bust for women or a 32 inch waist for men. On a Nike suit, a 32 suit size measures a 37 ½ inch bust for women and a 35-36 waist for men. Once you determine your proper size it should make choosing a suit much easier. As with any suit, it's best to try it on a good amount of time before you wear it, especially considering Nike's different sizing measurements. The suit life is very good on the Nike Hydra line—you should get about 10-20 wears for competitions, depending on suit care and water elements.
Nike Fabric
Nike Hydra uses their patent-pending Nike Swim technology. To keep fabric snug and close to the body, restricted stretch is an ideal feature. Nike has incorporated "zoned tension" to help reduce stretch and reduce water collection and turbulence around the chest and lower back. Reducing drag is a very important suit characteristic, and the Hydra line is scientifically proven to reduce drag compared to traditional swim suits, according to Nike. Their fabric performs best when evaluated against the following: drag reduction, water repellency, stretch and recovery, compression, and strength and durability.
Nike Function
There are many different styles of Nike Hydra, including men's jammers, tights, briefs, women's tanks and neck to knee suits as well as full body suits for men and women. The Hydra line is very high quality and should only be worn for competitive meets to prolong the life of the suit.
---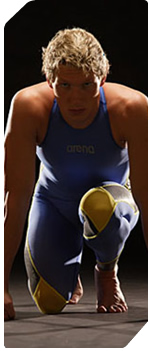 Arena's line of technical suits, Powerskin, definitely has the voltage and amp to power you through a fierce competition. The suits are lightweight, have almost zero friction and absorb less water than other competition suits. Powerskin is quickly becoming a favorite of competitive swimmers worldwide.

Arena Fit
Arena is a European brand and follow standard competition sizing. However, it is always recommended to consult the sizing chart. Powerskins, due to the high quality of the fabric, have a life of about 6-10 wears. You will definitely prolong the suit life by only wearing it during heats. If you sit around all day during a meet in your suit, the suit will stretch and not perform as well. Rinse right after wearing and line dry in a cool spot away from sunlight to avoid degradation and fading.
Arena Fabric
Powerskin's fabric is unique due to the fact that it is woven instead of knitted. This gives it a smoother, faster surface. It also has polyamide coating to give to give an extra sleek edge. Being 100% stretchable enables a compressed fit around legs, preventing muscle vibration. Powerskin is meant to be worn very tight but it flexible around joints for optimum mobility.
Arena Function
Arena's Powerskins are designed to fit like a second skin. They are high quality, highly technical racing suits to be worn ONLY for competition. That which makes this suit unique—the woven fabric, almost zero friction, complete flexibility and stretchable material needs to be preserved. Proper care of this suit will give hopefully give you the result you want.
---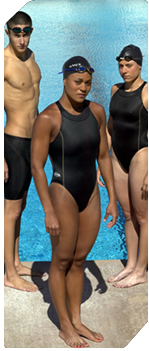 Finis manufactures many products, but their Hydrospeed technical racing suit is making waves with competitive swimmers. Available in a male jammer, race tight, brief and female clipback and race john, there is a suit for your needs.

Finis Fit
The Hydrospeed line is made from a polyester/Lycra blend. The nature of this material tends to run a tad small, so please consult the sizing chart. Many swimmers also prefer to size down one size for competitive suit to avoid drag and hope to increase speed. Depending on proper care and water conditions, this.
Finis Fabric
The HydroSpeed suits are created from a Scalex fabric which was designed with the swimmer in mind. It allows for keen awareness of body movement and flexibility while maintaining speed. Because Scalex fabric has a hollow-core, less water is absorbed which makes the suits lighter and faster. The knitted fabric is a high density blend of thinly stretched polyester(82%) and lycra(18%). The higher thread count makes the suit easier to wear, increases comfort, and the scale-like finish embossed on the fabric provides additional water-repellant characteristics to reduce drag and increase speed.
Finis Function
The HydroSpeed line is strictly designed for competition. The thinly knit fabric will stretch after wearing, so it's important to only wear your HydroSpeed during heats and rinse it immediately after to avoid degradation. An adequate and high quality choice in the technical suit field, Finis' HydroSpeed are definitely built for speed.
---