Training For The Santa Rosa 70.3 Triathlon: My First Swim
2018 Feb | By SwimOutlet.com Staff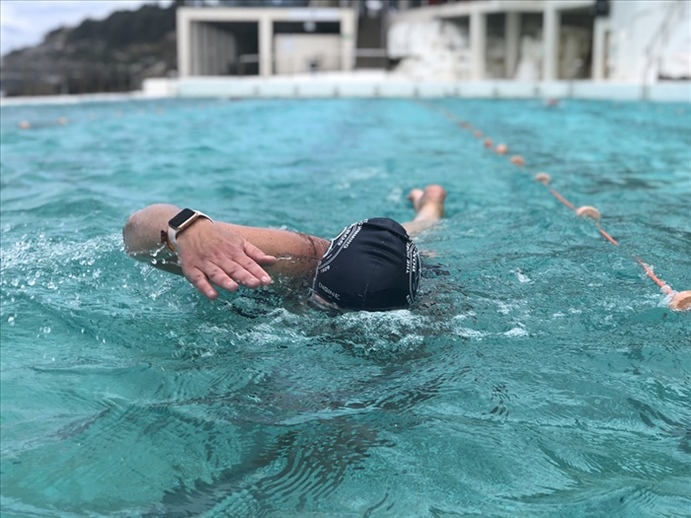 A year and a half ago I participated in the Superfrog 70.3 in Imperial Beach, California. It was my first triathlon in 10 years and my first race (swim, bike or run) in three. I completed the course in over 7 hours, mainly due to the fact that the run is one of the harshest half marathon courses I have ever come across with roughly 7 miles (11-12km) of it on the beach through both soft and hard packed sand. 
At the time I was living in Illinois and my training leading up the the September race was mostly indoors until around May, when the snow melted and you were assured that you could go out on a road bike without hitting any ice patches. So when I moved to California last year to join the team at SwimOutlet.com I decided to set my goal of completing a 70.3 in less than 6 hours and 30 minutes, since I could take advantage of being able to train outdoors year round. At the end of January, I registered for the Ironman 70.3 Santa Rosa (originally the classic Vineman Half Ironman) on July 28th.
I chose the Santa Rosa race because it was a reservoir swim and likely to be calm and easy (the Superfrog was not) and the course offered a one way bike ride through Wine Country! Lets not talk about the run just yet...
My first, and easiest, training goal was to get back in the water after a year's break from anything that resembled swim training. Since I was about to hop on a plane to Australia (where I am from) I decided that there was nowhere better than the Bondi Icebergs swimming pool at Bondi Beach in Sydney to start me off.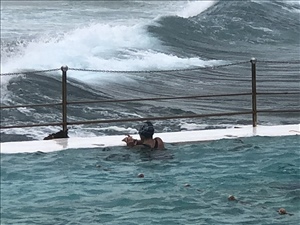 My goal is to complete the 1.2 mile swim in under 30 minutes. Although this goal is easy for me to work up to in the pool, it is always harder on race day where I am competing for space with several hundred other bodies, my stroke and breathing style differ and there's not a wall to rest on. I am relying on the Swim.com app to assist and track my training, along with an Apple watch.
Swimming comes naturally to me, so I want to use this to my advantage in reserving my energy for the 56 mile bike and the 13 mile run later in the race. Jumping in the pool at Bondi is always a pleasure, but it's never an easy swim. The surf swells were huge on Sydney beaches last week and if you know the pool, you know that it is not only fed by sea water, but during high tide waves are continuously crashing over into the pool, so it almost mimics an open water swim.   
Fortunately for me the Swim.com app lets me set the pool length and my goal, and once I click start it records my laps. I say fortunately because I have a habit of losing track of where I am. I thought I had hit my 1000m goal until I checked my watch as I got out and saw that I had only swum 900m. I know that this was human error on my part, because with my next swim my brain was working and it had counted the same number as the app. 
It also has different swim training programs, drills and an overall leaderboard (so I can compete with my sister 7,000 miles away). This will help me train towards my end goal, since the swim is the one leg that I do not have a training partner or coach for. 
You can follow my progress towards a sub 30 minute 1.2 mile swim on race day every couple of weeks on the blog, where I'll be posting my journey towards 70.3 with updated swim tracking from the Swim.com app.