Top Water Shoes Compared - The Julie Stupp Review
2017 Jan | By SwimOutlet.com Staff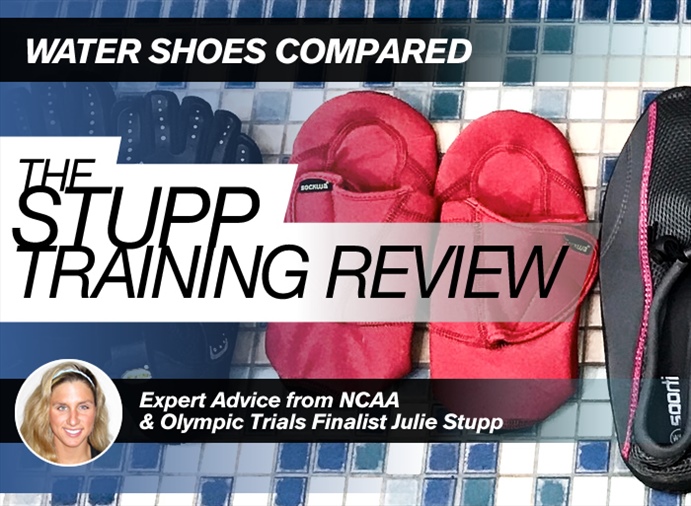 I have to admit, I have never taken a water aerobics class but after spending nearly every day of my life in and around swimming pools, I have seen my fair share of water fitness classes. In fact, the day I went to test out the water shoes there was a class that was about to begin.
During my review, I did my best to mimic the exercises that veteran water aerobics participants were practicing in the pool. Each of these water shoes had varying and unique qualities that made my own personal water aerobics workout a bit more invigorating.
I liked a lot of these shoes and could see the purpose of wearing all of them for a variety of different activities. I teach a lot of private swim lessons and swim clinics and could also see using them on deck.
Here's a quick overview on my thoughts for each shoe, which might help you in making your purchasing decision. Like many things that I use in the pool, fit is a huge consideration for me in my testing and with this particular review, I didn't take price in as a factor. 
VIBRAM FIVE FINGER SIGNA WATER SHOES ($60- $80)
Size 43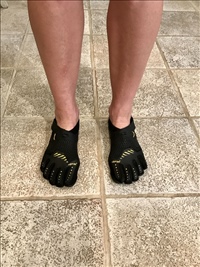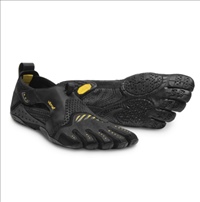 The Vibram Five Finger shoes have a very unique fit. At first I wasn't sold on having each toe separated but by the end of the review they became some of my favorite water shoes among the group. Make sure to give yourself a little extra breathing room in this shoe, I went up a size so that my feet and toes felt comfortable. The Signa have an awesome gripping material on the bottom of the shoe that allows for you to comfortably move in the pool and over wet rocks on a hike. Would love to see this in another colorway beyond black to give them a little personality but functionally, these are great shoes with great grip.
 
KEEN VENICE H2 WATER SHOES ($52.20- $80.75)
Size 11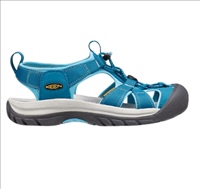 The Keen Venice H2 is a shoe that you see a lot of places beyond the pool and they are by far the most durable water shoe I tested. They have a nice wide foot bed and an elastic cord on the top strap to allow fit adjustments. The Venice are super sturdy due to the thick sole, the rubber toe cover and the singular strap construction. They are built to last and are very multi-purpose, but they are also tremendously comfortable. These shoes seemed a bit too much if you were to use them only for water aerobics but helped me to have excellent traction on the bottom of the pool. The Venice H2 are the perfect all-around water shoe. I like that they are available in many different colors for style purposes.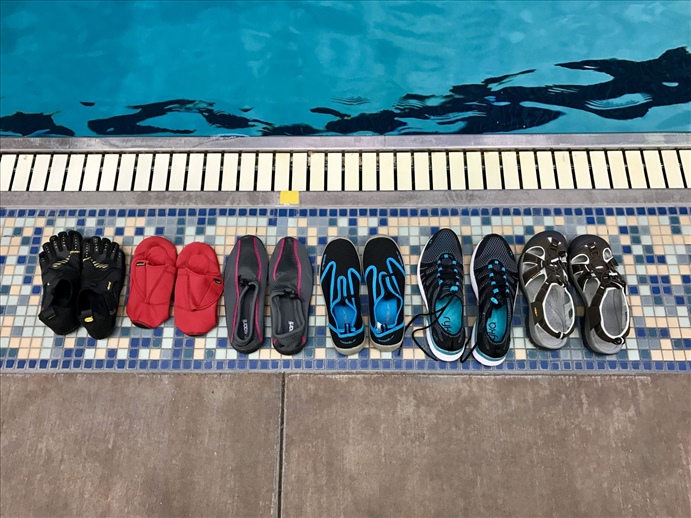 SPEEDO ZIPWALKER 4.0 WATER SHOES ($23.40- $36)
Size 11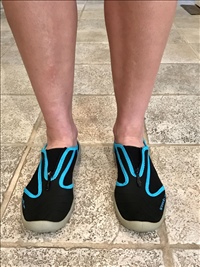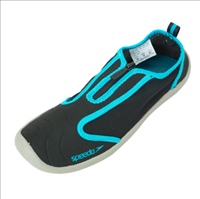 The Speedo Zipwalker 4.0 fit my feet like a glove. The Zipwalker 4.0 like its name suggests has a zipper on the top of the shoe that allows for a more snug fit, quick open and closure and made them unique among our water shoes being tested. They seemed a little tight before I got in the pool but once I got them wet they stretched perfectly and provided excellent flexion while exercising. These shoes are perfect for the pool and other outdoor activities like floating the river.
SOCKWA PLAYA HI AQUA SOCKS ($21- $28)
Size 12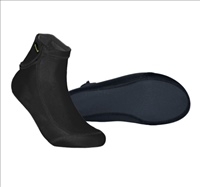 The Sockwa Playa Hi Aqua Socks are the most intriguing "water shoe" I tested. As their name suggests, they are really more of a sock then a shoe with no sole or support. They are made with a thick neoprene bottom and a light stretchy lycra on the top. The Playa Hi Aqua Socks are very comfortable and dry easily due to their water resistant materials. Would be easy to throw into the dryer quick for quick drying. The Sockwa Aqua Socks and can be used in the pool for aerobics, with swim fins to protect your feet and on the beach for better traction or protection from any sharp objects in the beach. If you're a volleyball or beach soccer player, take a look at the Sockwa!
RYKA HYDRO SPORT 2 WATER SHOES ($48.75- $65)
Size 12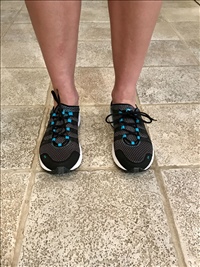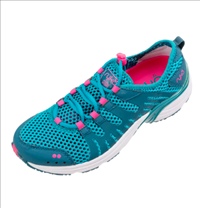 Of all the test shoes in this review, the Ryka Hydro Sport 2 are the most similar in style and fit to running shoes. They actually look like regular shoes that you might wear on the street. The key is their water drainage. They have a mesh top and adjustable laces to tighten the shoes in and out of the pool. No matter what colorway you choose, they all come with a pop of color. The Hydro Sport 2 also have a very thick and supportive sole that allows for dynamic movements in the water and great grip on the bottom of the pool. This shoe is an excellent option for an injured or cross training runner who likes to aqua jog or maybe someone who wants to wear the shoes to and from their water aerobics class.
SPORTI ADJUSTABLE WATER SHOES ($10.99- $12.95)
Size 12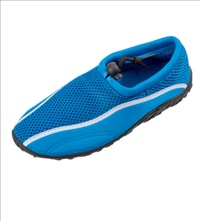 The Sporti Adjustable water shoes are a terrific overall value given their price point. I'd say the hallmark for this shoe is that they are very buoyant. This created an extra challenge during my aerobics workout because they don't drain any water in the pool, which added a little extra resistance to my workout. The Sporti Water Shoes have a nice loose fit and an adjustable strap on the top of the foot. They are quite durable due to the rubber bottom and thick nylon material around the foot. Aside from water aerobics, I'd say these are a great pair of water shoes just to have lying in your beach bag in case you find the need for some extra foot protection from rocks, heat or other sharp objects underfoot.