Top Water Fitness Swimwear Compared: The Expert Review
2018 Feb | By SwimOutlet.com Staff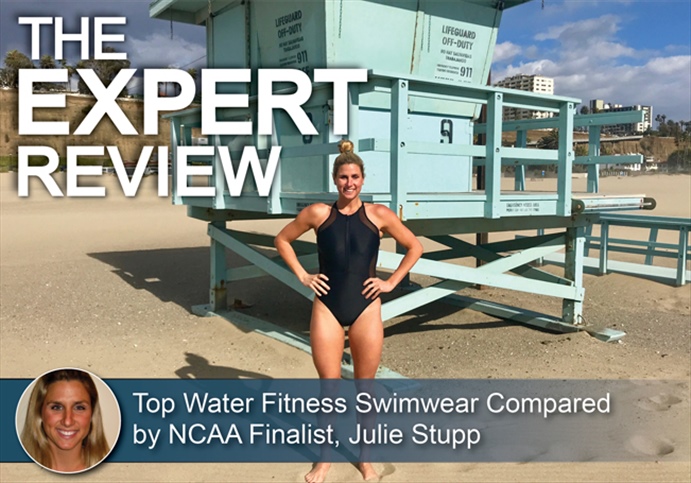 As a former competitive swimmer I tend to forget that there are so many different types of aquatic athletes, such as surfers, paddles boarders, water polo players, triathletes and water aerobic enthusiasts. Luckily SwimOutlet.com offers swimwear for every single sport. This month, I was a bit outside of my element as I tested out active recreation and aquatic fitness suits. There were seven in total and they ranged from antimicrobial water aerobic specific suits to neoprene paddle boarding suits. This review was eye opening and truly made me appreciate the technology, science and care that brands put in to producing top of the line swimwear for every kind of athlete.
REEBOK WOMEN'S METALLIC TANK ONE PIECE ($69-$103.50)
Size 8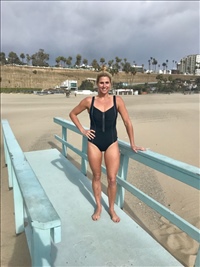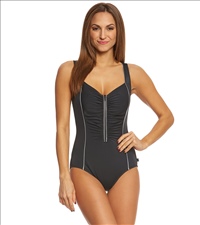 To be honest I didn't even realize that Reebok produced swimwear. To my surprise, not only did they create a suit with cutting edge technology but it also fit quite well. Reebok is best known for their shoes and training gear so I didn't have high expectations when I tested out their active recreation suit but they proved me wrong. The Metallic Tank one piece fit perfectly, and also has some fashionable accents including a zipper and silver detailing throughout the suit. Reebok's silver lining technology is really impressive, the composition is antibacterial, anti-odor and helps the suit last longer. This is the perfect protection for active swimmers who sweat in and out of the pool.
 
SPEEDO WOMEN'S MESH ONE PIECE ($74.74-$84)
Size Medium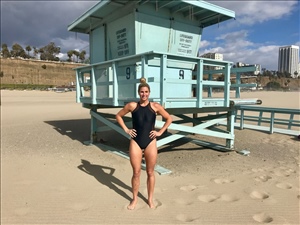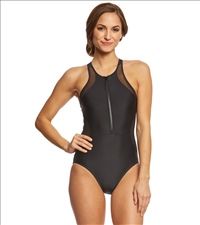 The Speedo Mesh one piece is the most fashionable fitness swimsuit I tested. It has mesh cutouts on the straps and sides and also has a zipper in the front. I tried on a medium and large because I couldn't determine which size was best based on the size chart. After trying on both I found that the medium fit perfectly, so I would suggest going down one size in this suit. The Speedo Mesh one piece has some high-tech features including UV resistant fabric and regenerated nylon fibers. This means the suit not only blocks the sun's harmful rays, but also is made from recycled nylon material. Another cool feature is the silicone gripper that is found on the butt of the suit, this keeps it from ridding up making it a great option for surfers or veteran water aerobics participants.
 
TYR OMBRE STRIPE AQUA CONTROLFIT ($73.59-$79.99)
Size 12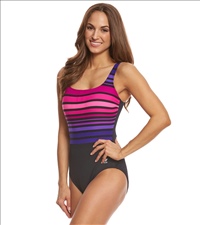 The TYR Ombre Controlfit had the most modest cut of all the suits I tested. The TYR Controlfit has a small scoop in the back of the suit but otherwise covers your entire chest, stomach, butt, back and rides very low on the hips making it a great option for any athlete looking for full coverage. The Controlfit also has two soft chest cups and a thick built in bra strap for extra support and comfort during long water workouts. The TYR Controlfit is 100% polyester so it has a great lifespan in the pool and boasts that it is chlorine proof meaning it will keep the suit's color and integrity of its shape much longer. This suit provides ample coverage and support and is perfect for any level water fitness class.
 
LEVEL SIX WOMEN'S 1.2MM NEOPRENE LARA ONE PIECE ($57.99-$74.99)
Size Large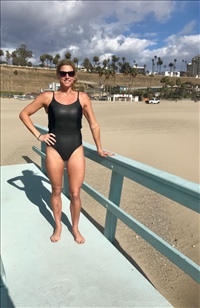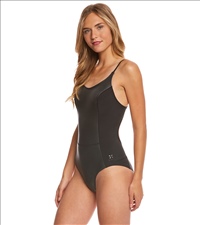 The Level Six Lara one piece is the most hardcore fitness suit of all the different brands I tested this month. The Level Six one piece is made from a thick 1.2mm neoprene and spandex, making the suit durable for many uses and easy to wear because of the combination of the fabrics. Neoprene is the same materials used in wetsuits, it's a rubber-like fabric that keeps athletes warm in colder water, and helps to shield their skin from the earths harsh elements like UV Rays and wind. The Lara one piece was a bit tighter than the other suits due to the neoprene and also has a unique backstop design that was ultra feminine and flattering. The Level Six suit looks like armor on the exterior but is super comfortable to wear and is perfect for paddle boarders, surfers or any ocean fitness enthusiasts.
 
DOLFIN AQUASHAPE WOMEN'S CROSS-BACK ONE PIECE ($63)
Size 12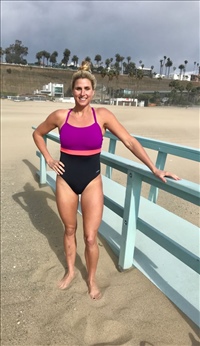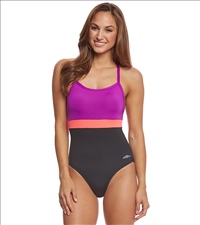 The Dolfin Aquashape suit is very similar in design and function to the Arena Bodylift Cross-Back. Both suits have adjustable criss-cross shoulder straps and supportive features that help athletes to feel more like they are wearing athletic gear and not just a single layered swimsuit. The Dolfin Aquashape has a built in bra featuring a substantial band that is very soft and compressive, while the outside of the suit has a fashionable colored seam for a double layer of support. This is great option for bustier women. The Dolfin Aquashape is also made of a thick polyester material that held its shape well in the water and will be durable enough for everyday use.
 
ARENA BODYLIFT LIZ CROSS-BACK SHAPEWEAR ONE PIECE ($62)
Size 34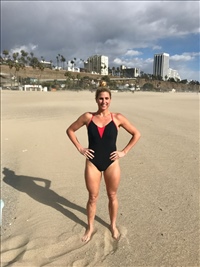 The Arena Bodylift Cross-Back suit was one of the most comfortable activewear suits I tested. It has a ton of shape wear features that help to keep you feeing confident, supported and comfortable while training in the pool. Some of the shape wear features include body-lifting seams that support your chest, similarly to wearing a sports bra, and control excess movement in your waist while moving in the pool. The suit hugs your hips and back nicely due to the criss-cross shoulder strap design, which was great for jumping exercises in the water. Overall the Arena Bodylift suit was perfect for water aerobics!
 
FUNKITA CHECKIN IN ONE PIECE ($45.12)
Size 14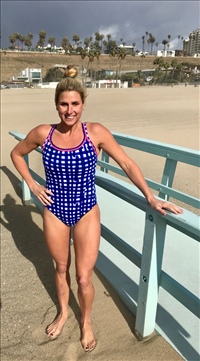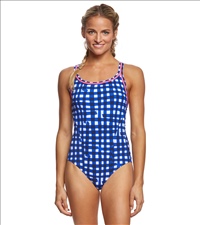 The Funkita Checkin in one piece is definitely the most colorful suit of the bunch I tested. Unfortunately it lacks some of the same quality of the high-tech features found in the other suits. It is double lined for modesty and has a built in bra that is fairly supportive. On a positive note, it does have two thick shoulder straps that were great for movement and quite comfortable for longer exercise classes. The Checkin one piece is a great option for someone looking for a full-bodied, modest fit.