Top Resistance Training Gear Compared: The Expert Review
2017 Jun | By SwimOutlet.com Staff
by Julie Stupp, NCAA & Olympic Trials Finalist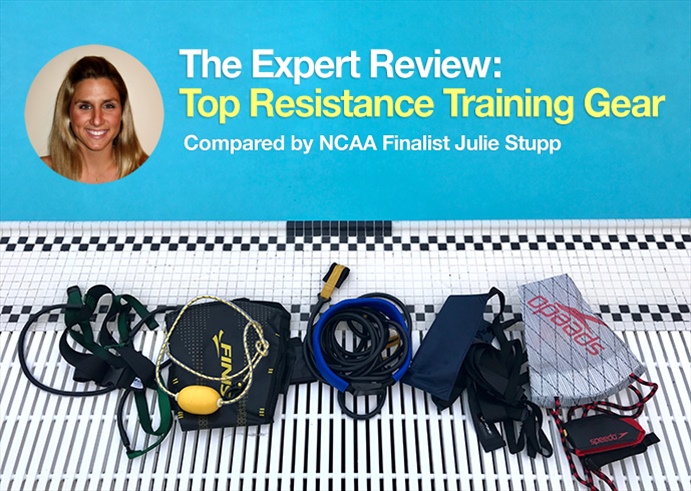 If you ever want put your endurance to the true test in the pool, jump in the water with a swim parachute or throw on some resistance cords and see how long you last. Training this past month with a variety of resistance tools available on SwimOutlet.com reminded me of just how valuable technique and strength become when we are tired at the end of a race. Resistance training in a weightless environment like water is the perfect solution to exposing technical flaws. And resistance gear can be helpful for any swimmer, no matter the level or the age.
Training with parachutes or resistance cords slow you down and expedite your fatigue within a matter of seconds, leading your technique to break down much faster; the resistance gear helps magnify any inconsistencies within your strokes.
The other benefit is strength and muscle – you're simply working muscles harder then they are used to without these resistance accessories. Ultimately the benefits of resistance training tools come in both the form of building strength in the water and forcing swimmers to slow down to focus on the technical aspects of the strokes.  So let's take a look at a few of the options out there.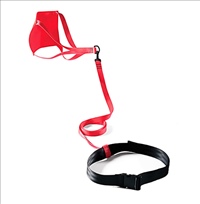 The FINIS Swim Parachute is the most basic looking among the three parachutes I tested in this review, but it actually packed the biggest resistance punch. It comes with a simple black belt and a seemingly innocent navy square of material that drags behind you while you swim. The FINIS Swim Parachute is available in two sizes, the red 8-inch chute and the navy 12-inch chute. The 12-inch Navy chute definitely challenged me in the pool and may have been a bit more than I really needed.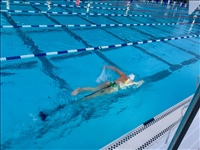 I would suggest that most swimmers should start with less resistance and work their way up to more resistance or a bigger chute once they have built up some strength and resistance training endurance. The simplistic FINIS design became a bit of a hindrance while trying to train because cord that attached to the belt and chute didn't have a buoy keeping it afloat. The cord and chute then sank and dragged low enough in the water that it impeded my kicking and ultimately my strokes on occasion. The FINIS chute is the easiest chute to take on and off in a hurry, which makes it the best for circuit training.

Summary
The FINIS Swim Parachute lacked a buoy making it a bit more cumbersome in comparison to the higher priced models like the Speedo Dragtini and the FINIS Drag+Fly but I liked the multiple sizing options. The FINIS Swim Parachute is an excellent option for college teams because of the variety of sizes, the price point and swimmer's have the ability to easily get the parachute on and off during circuit style training.
STRETCHCORDZ STATIONARY SWIM TRAINER ($34.99)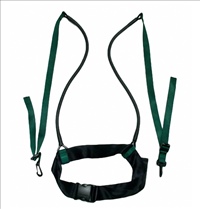 The StrechCordz Stationary Swim Trainer was the hardest resistance tool I have ever used in the pool, but also the most versatile. It is a funny-looking contraption that has a belt and two cords that attach to either lane rope beside you ultimately locking you in one place.  It immediately exposed all of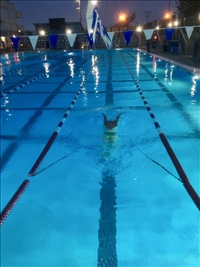 my weaknesses and helped me to identify areas for improvement in my strokes. This is the perfect tool for coaches to watch from the sidelines or video a swimmer and address any technical aspect of the strokes.

Like the name, it keeps you stationary and you can only take about 6-8 strokes before you reach maximum resistance. This is helpful in training speed and endurance. The StechCordz Stationary Swim Trainer can also be used while traveling and training in a pool with an unknown length. Trust me it doesn't take long to get in a good workout, this resistance tool will wear you out quickly.

Summary
The StechCordz Stationary Swim Trainer is the most versatile resistance tool I tested and also a great way for coaches and athletes to work together on perfecting technique. This is a must have on all age group swim teams in order for swimmers to learn to swim with great technique as early in their careers as possible.
STRETCHCORDZ LONG BELT WITH SLIDER ($49.46)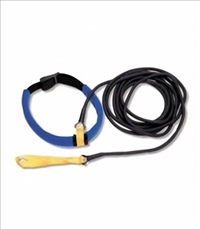 The StrechCordz Long Belt with Slider is one of my all-time favorite resistance training tools because you can build strength, increase endurance and correct stroke technique all at once. The StechCordz arrives in two pieces the blue padded Long Belt portion and the stretchy black rubber cord. It is easy to assemble and can be useful to any swimmer or triathlete of any age. It's also available in three different weights.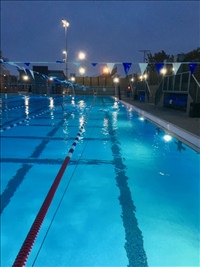 The StechCordz with Long Belt can be used in multiple ways; it can be attached to the lane rope or the starting block and you can swim out against the cord working on resistance training, technique and endurance or you can swim with the cord and have extra assistance or speed! You can also have a teammate pull you across the pool to again have added assistance and work on technique while swimming at top speeds or you can have a partner hold the Long Belt behind you while you swim against the tension of the StechCordz and focus on your technique or improve your endurance. This is a great tool to have on deck for swim teams, especially when getting close to big competitions because it helps the swimmers to have added feel for the water when swimming with assistance and speed.

Summary
StrechCordz Long Belt is one of the best all-around training tools, they allow you to perfect strokes, improve endurance and increase speed. This training tool is a must have on all pool decks, especially for club and college swim teams.
SPEEDO DRAGTINI ($79.99)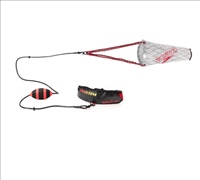 The Speedo Dragtini is great resistance training tool due to its quality materials and high tech construction. The Dragtini is easy to assembly and arrives in three separate pieces. The first piece is the belt with a very comfortable padded back strap, the second piece is the ultra-waterproof cord and the third piece is the durable plastic parachute. On the cord portion of the chute there is a small black and red buoy that kept the parachute from getting tangled in my feet and legs while I swam.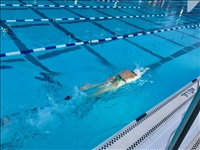 This simple addition to the parachute makes all the difference because it helps to keep the parachute cord afloat and out of the swimmer's way. The Speedo designers were thoughtful in building the Dragtini; while the point of a parachute is to act as a resistance tool it shouldn't be clunky and interrupt your swimming so its seamless simplicity was a huge plus for me. While some might hesistate to do any resistance training due to added hassle or complexity, the Dragtini made it enjoyable. 

Summary
The Speedo Dragtini is the most highly technical when it comes to parachute construction and in turn makes resistance training as fluid as possible even if it comes at a bit of a higher cost on the price point side. The Dragtini is a great tool for all types of swimmers, from masters, to open water swimmers, to triathletes and age groupers. Top marks!
FINIS DRAG+FLY (Available mid-June)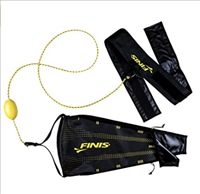 The recently introduced FINIS Drag+Fly parachute was the most innovative training tool I have used in quite some time because of its versatility. Not only do you have the ability to add resistance and drag through the pool, but you can also decrease resistance in seconds and fly on top of the water. The chute portion of the Drag+Fly has two zippers on either side that easily open or close allowing the parachute to fill and drag water or seamlessly flap behind you.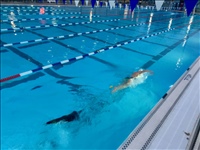 Having the ability to transition from resistance training focusing on technique and endurance to working on top-end speed – swimming with the feeling of zero gravity – allows for a variety of training functions. The Drag+Fly is well constructed, durable and has a mini buoy that is attached to the chute that keeps the cord from hitting your feet and disrupting your strokes.

Summary
The FINIS Drag+Fly name and functionality are not only a perfect wordplay on its capabilities but they make resistance training fun. Really loved this product and FINIS's continuing ability to put out new and cutting-edge products. The Drag+Fly is a perfect training tool for younger age group athletes to begin swimming with resistance because they have the ability to directly control the amount of drag.