The Gangloff Review: Mark Gangloff & Julie Stupp Break Down the Latest Swim Watches
2014 Jul | By SwimOutlet.com Staff
By Mark Gangloff, Olympic Gold Medalist



For quite some time "land" athletes have benefitted from technology. Between watches, GPS devices, computers, and even shoes that provide key metrics, land athletes have been able to track their training, compare results, and set goals rather easily. In the pool, we are often left to our own devices (no pun intended): counting.
Recently, there has been a transition to swimmer-friendly technology. Among them, Swim.com has launched in beta this summer, providing a swim tracking and workout platform that is compatible across multiple wearables, including some tech watches that I have reviewed here.
Tech watches – some people call them smart watches – for swimmers provide key feedback and relieve the athlete of counting, tracking, and roping an innocent bystander into keep your pace.
Over the last several weeks, I have tried many tech watches for swimmers. I am thrilled about these innovations and what they could do for our sport and our athletes so a brief overview follows.
What do tech watches do?
1. Tech watches provide key metrics. For instance, Suunto, TomTom, Garmin, FINIS and Swimovate have the ability to keep your pace. As soon as you touch the wall, your watch will tell you your pace for the 100m. Other key statistics include stroke count and stroke rate. In addition to immediate feedback on your watch while in the water, tech-watches are associated with an online platform or software that allows in-depth analysis of these statistics for the super swim nerd at heart (no shame… I'm one of them). For experienced swimmers, the Suunto provides not only key metrics, but also breaks these metrics down for further analysis.

2. Tech watches make practice more fun. Let's be honest, swimming can be boring. By introducing gear (toys) into your workout, you can break up the grind. For example, Swimovate allows you to design your workout before jumping in the water and provides cool graphics. By uploading the data from Swimovate to Swim.com, you can then share workouts and rank your swims with friends and others.

3. Tech watches motivate. Because of the extensive feedback tech watches can provide, swimmers can more easily set short-term (like, really short-term) goals. For instance, with the Suunto, swimmers can play Swolf (swimming + golf) where the watch adds your time (per 25m) and your stroke count (per 25m) for a score. The goal is to lessen your score. Similarly, Garmin includes a feature that measures average efficiency, which, uniquely, could allow you to set goals regardless of length of the pool or workout.
Who are tech watches for?
While any swimmer could benefit from a tech watch or similar technology, I thought of three specific types of swimmers, as I tested these watches.
1. The Masters Swimmer: Often without the luxury of a coach, Masters swimmers could benefit from technology that provides feedback. Watches like Swimovate allow these athletes to "coach" themselves with the ability to design a workout prior to the training session and then review those workouts. Integration with Swim.com platform would even allow for your to virtually race other Masters swimmers on the platform. Masters athletes are also often engaged in mindful swimming (e.g., knowing your pace, ability to break that pace down per 25m, etc.), which likely complemented by the analysis provided by tech-watches. 

2. The multi-sport athlete: While a multi-sport athlete could be any type of athlete, it is easy to think that a triathlete, in particular, could benefit from a tech watch for swimming. Likely with devices that assist in training on foot or bike, triathletes could incorporate the statistics that swim watches provide into their overall training program. There are also several benefits to tech watches when training in open water. For example, Garmin, TomTom, and Suunto have a GPS and, specifically, have multi-sport features.

3. The mature, novice competitor: Without extensive experience (believe me, just learning to count strokes takes some experience), tech watches can serve as a valuable educational tool for novice competitors. Swimovate, Suunto, TomTom, FINIS and Garmin, for instance, provide split times, a key statistic when learning training/race pace awareness.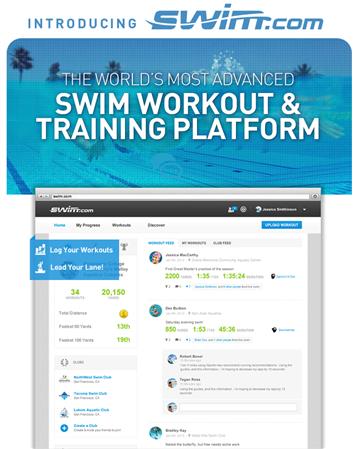 What I hope to see in future swim watches?
Swimming tech watches have come a long way, but there are still a few key features that I'd like to see (and think I will) in the future.
1. Increased accuracy: While often accurate, I also noticed some major inconsistencies in the watches' metrics, as I increased or changed my speed (or added fins). As the technology improves, I believe the accuracy of these tech watches will increase the usability and, ultimately, the market reach of these gadgets within swimming. This will be key.

2. More apps: Of the watches I have tried, only the TomTom connected directly into my phone. While it did not provide all of the metrics the other watches provided, this product feature made it one of my favorite watches. In the future, I think easy connection as well as more apps will increase the value of tech watches, which is one reason why Swim.com is such an important platform. It is the only platform that will bridge the swim wearable ecosystem. Currently it is compatible with FINIS, Swimovate and Garmin, and it will launch its Pebble app soon. This could see Swim.com become something similar to Strava.com for cyling or MapMyRun & RunKeeper for running.

3. Social network: I love to compete (duh!). Because of not only my love of competition, but also my love of training with friends, I would like to see a platform that allowed me to do both without having to be physically at the same training session. With features that allow for connectivity with other swimmers, tech watches' ability to motivate will rocket. Once again, a platform like Swim.com should provide this cross-device connectivity capability.

In closing, I will quote Ken Blanchard, an American author and management expert. He said, "feedback is the breakfast of champions." Go get some!
Swim Watch Comparison
By Julie Stupp, Olympic Trials Finalist

It is about time that the swimming community fully embraces training with technology. For many years we have used technical suits to make us faster, power towers that make us stronger, tempo trainers to keep us up to speed, so why don't we use GPS watches, smart watches or other tech devices to help us train more intelligently? High-tech watches have been around for quite some time in the running and cycling world, but never seemed to break in to the sport of swimming.
Runners have relied on GPS watches to count their steps, relay their splits and log their miles for years. Swimmers now finally have the ability to do the same, not only in the pool but in the open water as well. With the launch of the Swim.com, which provides a digital platform compatible across different wearables (currently with Garmin, Swimovate & FINIS), now is the time to embrace swim watch technology.
Mark and I got to test out four different swim watches to assess the technology available and highlight the features that make them a valuable training tool: Garmin, Suunto, Swimovate & TomTom (note: we'll also update to add the new FINIS Swimsense 2 when it comes out). My three favorite features are described below.
1. SWOLF: In swimming there are many ways to get faster; you can train harder, race smarter and constantly perfect your stroke technique to name a few. But in all honesty, there are only a few tools you have in order to get from one end of the pool to the other the fastest. You can increase your stroke rate or your tempo all while taking the least amount of strokes possible. Efficiency is the name of the game.
If you ask any elite swimmer what their stroke count is for any given race, I bet they can tell you the exact number per 50m before you finish asking the question. Stroke count is essential for a swimmer's success and with a swim watch you can become more aware of what you're doing even during long sets with the SWOLF function. SWOLF is the numerical combination of your total time per lap added to your stroke count. Much like in a golf game, the lower your score the better. For example if you swim a 50m breaststroke in :45 seconds and you take 23 strokes in that 50m your SWOLF score is 68. Many of the tech watches we tested had this function available, which is very useful for swimmers of all abilities. Doing a few sets a week using the SWOLF function on your watch will help you to focus on speed and efficiency, while allowing your brain to do less mathematical work. You can now leave the tracking up to your watch.
2. Online Training Logs: All of the swim watches that we tested came equipped with online tracking technology or applications that saved each and every one of your workouts. Garmin and Swimovate watches (as well as the upcoming FINIS Swimsense 2) are also compatible with the new Swim.com platform that supports multiple wearable devices. Being able to look at your swim history is a great way to track your improvement or see where you can make necessary changes.
Some of the software even goes as far as breaking down your logged training in to different graphs including your heart rate, stroke count, time, distance, stroke length and even calories burned to name a few. All of this information is helpful because you have the capacity to see where you might need to make adjustments in training all while not having to do any extra work in the pool. The watch and the computer software process all of the calculations for you while you are swimming. This gives you the opportunity and the edge to study your swimming outside of the pool.
3. Workout Function: For many swimmers training on your own is quite a challenge and in some cases torture, if it is a long distance day. We can become accustomed to having teammates to push us, coaches to time us, and written workouts to follow. With tech watches, you can control your own training by setting up a workout on your watch. You can input the distance you want to go, the interval you want to swim and the rest you want to take in between sets. Using a swim watch gives you the ability to become more accountable while swimming on your own. They allow you to think a little less and rely a little more on the watch like a coach or guide for your workout. Some of these watches also have the capability to log the amount of time you spend on drills, give you an alarmed send off and remind you to hydrate while training. We would be foolish not to take advantage of the many wonders of swim watches – especially as technology improves.
Conclusion
At the end of the day you have to be the one to get in the pool and do the work, while staying mindful of what your body is doing. We cannot rely solely on technology to keep track of the swim data we produce such as stroke rate or the open water distance we cover, because there is always a possibility for error. But swimming with a high-tech training tool like one of these watches and logging your training on a platform like Swim.com is just one more way to help us improve our sport and our knowledge of the sport. It is one more way to get ahead and train at the highest level possible.
Here is a quick blurb about each of the four watches we tested and my favorite feature of each.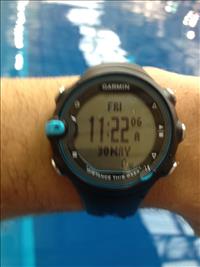 1. Garmin: The Garmin Swim looks very unassuming in size and style but it has no shortage of features when it comes to pool swimming.
What I like most: The Garmin Swim technology easily gives you the ability to set up, control and execute a workout on the watch. It is also compatible with the new Swim.com platform.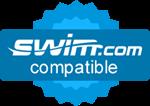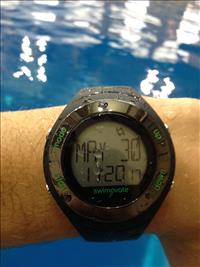 2. Swimovate: The Swimovate Poolmate is quite sleek and could pass as non-sporting watch outside the pool.
What I like most: Once you download your workouts on to your computer the Swimovate software has a plethora of different graphs, tools and information to track your progress and training history. It, too, is compatible with the new Swim.com training platform.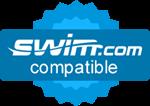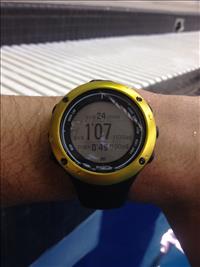 3. Suunto: The Suunto is a bit bulky and reminds me of a scuba diving watch but it lacks nothing in swim tracking technology.
What I like: The Suunto seemed to have the most accurate measurements while open water and pool swimming.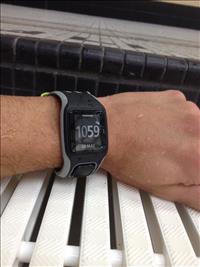 4. TomTom: The TomTom Multisport watch has interchangeable bands, so picking a color to match your suit is no problem.
What I like: The TomTom is easy to use because it has just one button to control the watch. It is also user-friendly because of the large watch face and digits that make reading your splits or distance simple while swimming.
 





EDITOR'S NOTE: This list will be updated to include the Pebble and FINIS Swimsense 2 upon review.