The Brighter, the Better
2013 Aug | By SwimOutlet.com Staff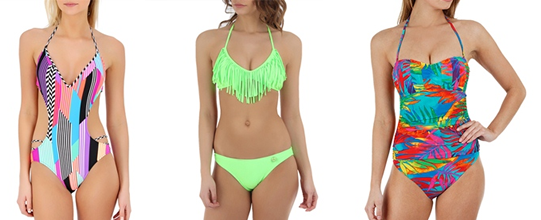 Imagine walking down the beach, in the glistening sun. As you're strolling through the salty air and soft sand, you notice: all eyes are on you. Immediately, you wonder if your new, colorful swimsuit is twisted in all the wrong ways. Why else would all of these people be looking?
Here's this summer's secret; bold color combinations. It's the hottest thing to hit the beach since Baywatch!
Neon is an on-trend scheme of colors that instantly brightens up the beaches, lakes and pools. The loud, vibrant origins of neon swimwear will catch people's attention during your fun in the sun.
Bold colors have been trending across the board in fitness fashion for the past year. Whether it is a pair of running shoes, yoga pants, or a bikini- brighter is better. Here's why;
Often times in swimwear, your unique sense of fashion can get lost in the basic and repetitive design of a bikini. You see the same styles season after season, year after year. Well, there is light at the end of this trend tunnel, and it is bright. A bright bikini, that is. Thankfully, bold prints and vibrant colors have joined forces to transform swimwear this year.
Choosing a style with crazy color combinations instantly takes your swimwear from drab to fab. The cool neons and haute patterns add a fresh splash of uniqueness and personality to basic swimwear styles.
Likewise, the endless glow of a bold bikini adds an easy edge to your sun-tanning threads. We suggest you take your style to new lengths with fluorescent fringe, in the Body Glove Smoothies Super Brights. If fringe bikinis aren't your favorite, we also love the dazzling dyes of the La Blanca Rainbow Palm Mio. Cant seem to pick a neon hue, have all of them with Luli Fama Hola Verano.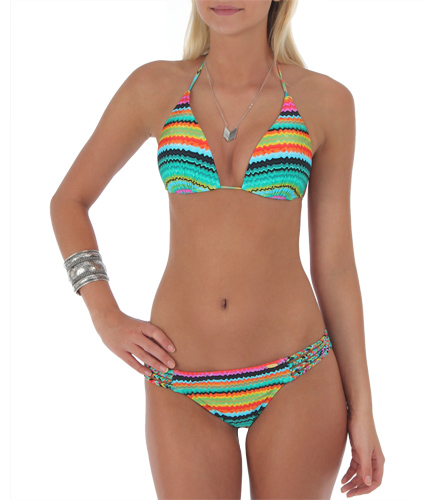 It is no secret that bold prints make you pop, and vibrant colors make you shine. However, a hidden benefit of these sunny styles lies on the surface of your skin. Wearing these trendy tints allow your true colors to show, literally. A bold bikini doubles as an effortless enhancer against your sun-kissed skin. The haute hues create a captivating contrast, which in turn reflect a deeper bronze.
So there you have it; brighter is better. Lucky for you, SwimOutlet.com has a wide array of fabulous fashion finds that will have you shining brighter than the sun.
Take the plunge with us in to a stylish summer, and create your own heat wave of haute colors!