SWIMMER Q&A: CATCHING UP WITH OLIVIA SMOLIGA
2019 Jul | By SwimOutlet.com Staff
by Rachel Lutz, Swim Writer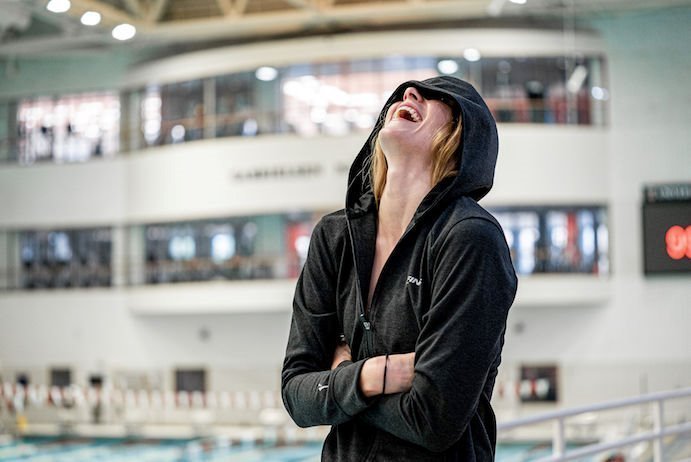 Olivia Smoliga took home eight gold medals from the Short Course World Championships last December; however, she reminded us modestly, a couple of those medals came from preliminary swims on relay teams. She learned valuable lessons from the meet, she explained, during her record-breaking medal haul. 
And it left Smoliga with a bright outlook for the world championships coming up in just a few weeks. 
The sprinter and backstroker had just left her morning weights workout when she opened up to swim writer Rachel Lutz for our monthly series of Swimmer Q&As. 
Q. What are your takeaways from going eight-for-eight at short course worlds in December? 
OS: I think I had a lot of takeaways from that meet in general. More than just getting eight for eight, like you said, because that in itself was really cool. The part that was unexpected for me was the medal count because I didn't know that I would be on as many relays as I was. I guess three of them were also preliminary relays, so I wasn't actually in the final. I take that into account as well. 
But I also don't want to sell it short because I think it really was a lot of swims. I was really happy with myself and how I handled that. It was kind of like an NCAAs vibe because at NCAAs you swim 13, 14 times because of relays. I think I was well-prepared to do that. 
Coming out of it, I think what I'm most pleased with and what I'll take away is how I handled myself and how I approached each race. I felt like so much more confident for this meet. I think that's a testament to how I've been training. I think it's because I've been training well. I have that under my belt. I'm ready to go. There's no reason to be nervous.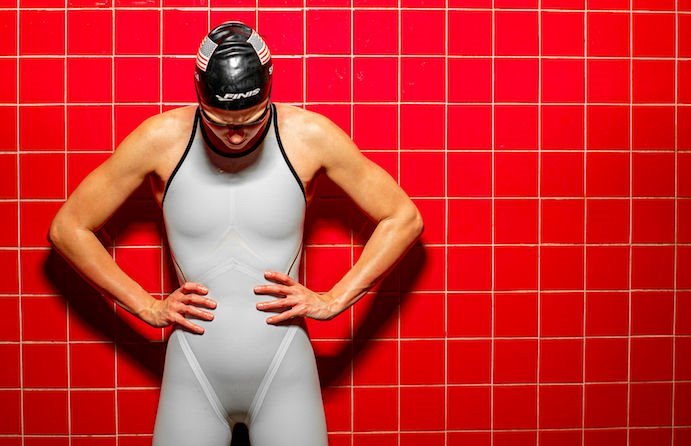 Q. What's the difference between swimming professionally and collegiate swimming for you, as you never really left your home base in Georgia?
OS: I feel so lucky to have the comfort of having a home base of just staying in Georgia, living in Athens and being with the same group of people that I have lived with. It's my sixth year here so I know everyone and I feel so comfortable with that. It was a really big adjustment for me, mentally, after I graduated. I don't know why. I think just so much changed. You're no longer swimming for a college team. You no longer are held accountable by a team. You just are literally swimming for yourself.
I think the intensity is a little ramped up because again, I'm just swimming for myself so it's like, if you want to do it for you, you're going to do it for yourself. You don't really have to be held accountable by a team. That changed for sure. I accepted it now. I'm like, 'OK, let's go. This is your career now.' I feel like I have to treat myself like a professional. That's the mentality I've gotten through the past two years. 
Q. It sounds like this is the kind of situation where you have to be even more honest with yourself, especially if you don't have teammates to hold you accountable. 
OS: I had a really good talk with Tony [Anthony] Ervin actually. To me, he's just this guru of wisdom and knowledge. I take everything that he says to heart. 
We were talking about how a meet went and I was like, 'Ah, it was alright. I think I really need to have my coaches like be on me if I'm having a bad day. I need them to push me a little bit more.' That's just my preference. He said to something like, 'To become the champion that you want to be, at the end of the day, you are the only one that can keep yourself accountable. Regardless of what your coaches do or say.' That stuck with me.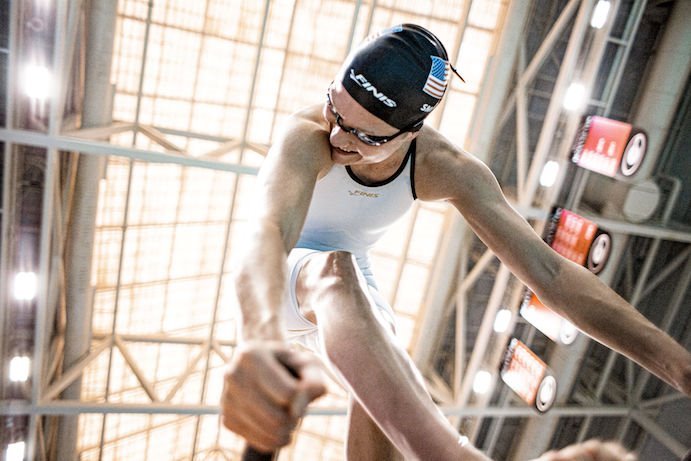 Q. How do you approach your coach and ask for that push?
OS: Jack Bauerle is the head coach, but my coach is primarily Brian Smith. I have gone to his office twice and been like, 'You know, I just need to you to yell at me or push me or motivate me at practice when I'm seeming low.' Because at the end of the day, yeah, it is me, but I do kind of expect my coach to be like, 'alright let's go, this is the last 50 of the set. So let's really just push it!' And to get in my face with that. I do appreciate that he's a laidback guy, but I have to do that for myself too and not expect it from my coaches all the time. 
Q. What's the number one tip you find yourself giving to young backstrokers at clinics that you host?
OS: Rotation and a tight kick. I feel like when younger kids swim backstroke, they try to really spin their arms without having their whole body be connected as one vessel. They separate their arms and their legs so they're two separate entities. They don't focus on using their core to rotate. You will have a much smoother rotation if your kick is tighter. If your kick is tighter, that means your core is tight, which means your rotating really well, which means your tempo will be faster. 
Q. At these clinics, are you the type of swimmers that pass around your medals or do you keep them for your own enjoyment?
OS: I've never really been one to show my medals around. Of course, if the people running the clinic ask me to bring my medals and it so happens to work out that I can, then I will. The reason I say that is because I leave all my medals in my parent's home. They're with my mom and dad in Chicago. They're safe there. 
When I was younger, I read that Michael Phelps keeps his medals in a box and he just stows them away. I thought that was really humble and nice to see. He's the greatest of all time with his medals – and he keeps them stowed away. I felt like we as swimmers should take a page out of his book. Yeah, your medals are great but it's the lasting impression you have on people with how you race and how you act that means more than your medal count.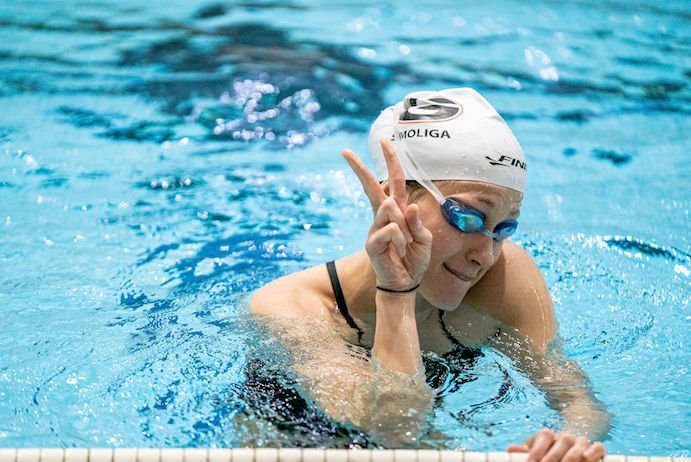 Q. What was the process for you like to choose to represent the United States instead of Poland? Was it at all difficult for you to choose between them? 
OS: There was never really a time that I had to sit down and make the decision with myself. My parents are both Polish which is cool, and I'm bilingual.
I got fourth in 2012 at Trials; they take top two. The way that you make an Olympic team for a foreign country, you have to either get the FINA A or the FINA B cut. It's not really top two at a trials type of thing, like the United States are. 
I had represented the United States at some junior meets. The feeling that you have when you walk on deck with your whole team and you're wearing the USA meet warmups, sweats: you are this force walking on deck. Everybody turns their heads and they look at you. When it happened to me on my first trip ever, I literally will never forget it. 
I think it means more to really get that top two spot to make an Olympic team. It's so much harder. I just didn't want to take the easy way out, I guess. 
Q. What are some of the best foods in the different places you've traveled? 
OS: Whenever I travel, I remember the people and I remember the food the most. I recently went to Japan for Pan Pacific Championships last summer. Oh my god, the sushi there! I went to a little shop in a market –  it looked like a flea market. It's a conveyer belt of sushi and you take off the plates from the conveyer belt. Oh my god, it was so good! It was so simple and so good and kind of a hole in the wall restaurant. You know, those really authentic [places], they do it the best. 
Then I got the chance to swim in this charity meet in Italy after Worlds in 2017. Italy has been my favorite place of all time ever to travel. Each restaurant that I went to I tried their tiramisu. I got to try six different types of tiramisu when I was there. That was so delicious! 
On the last couple days in Brazil we got to walk around and do whatever after the meet was over. I had this drink, their national drink called a caipirinha – oh my god! It was so yummy. 
I've been really fortunate to travel to different places and everything has been really stellar.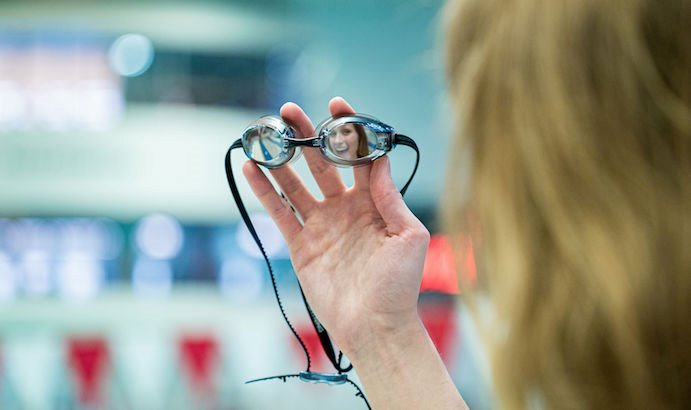 Q. Finally, if you will share, what are your goals and expectations for yourself this summer at the world championships? 
OS: I do keep my goals to myself. Not to say that I don't really set them anymore. It's not a concrete 'I want to do this and get this time and get this place.' I don't work like that. 
I've been feeling so strong. I've been feeling like I put together really good training blocks. I have been feeling so much more confident than I ever have. I'm so anxious and so excited to get there and see what I can do. I really feel like I can do something great when I get there, whether that's placing a certain way or getting a certain time. I don't know what it'll look like. All I can say is that I'm just so excited and I really feel I have a chance to do something really great. I'm pumped.