Running in our Backyard
2013 Mar | By SwimOutlet.com Staff
Hello SwimOutlet fans!
You may have noticed over the past few months, that SwimOutlet.com has been increasing its product selection beyond swimming to includerunning,yogaandsurfgear, too. So we'll have some non-swimming posts from time-to-time. 
We're building up a running culture here and this weekend a bunch of staffers ran in the popular 408k Race to the Row in San Jose.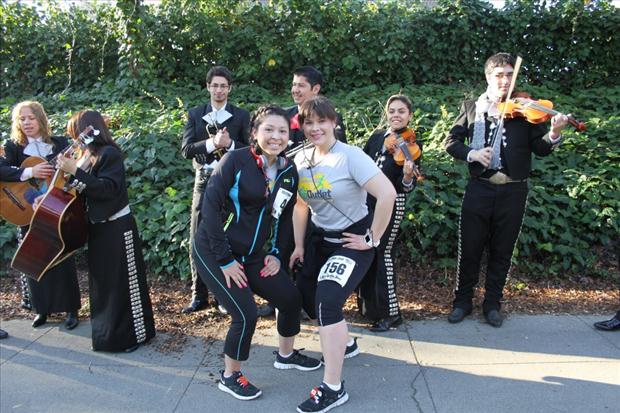 Congrats to the participants!
Asics was nice enough to send us a few pairs of the newGEL-Kayano 19 that just hit our inventory to try out for the race – and we took them for a test run out back of our office along the Guadalupe River Trail. 
Having a trail behind our office is a big perk of being at SwimOutlet.com. The Guadalupe River Trail runs 11 miles from downtown San Jose to the southern most point of San Francisco Bay. It's flat and has both gravel and paved sections, making it a perfect spot to try out the new Asics.
The GEL-Kayano series of running shoes is one of the best out there on the market and it wouldn't be a surprise if some day in the future our great, great grandkids will be sporting a shoe called the GEL-Kayano 131. 
I've frequently been an Asics-dedicated runner over the past dozen years and my last (and only marathon) came in a pair of Asics lightweight shoes 10 years ago, so I may be biased.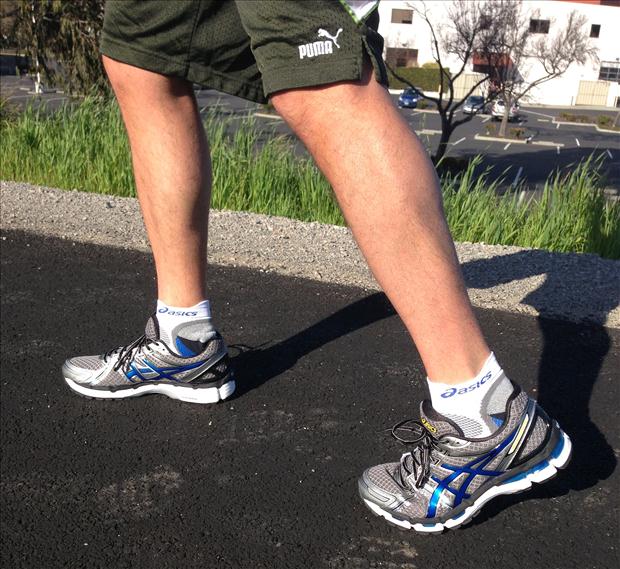 But I still have to say that Asics continues to impress. What is nice about the GEL-Kayano 19 is that Asics doesn't rest on their laurels. They re-designed the shoe and made it a half-ounce lighter from the previous version; it continues to offer fantastic stability and cushioning in a generally lightweight shoe. They keep taking a great shoe and finding ways to upgrade it with each version.
The break-in period is non-existent for me. The time it takes to wear them around the shoe store – while trying them on – and I'm ready to go for a run. During my stride, I can notice the guidance provided by the new sole design – and for an overpronator like myself feel, it offers the stability I need.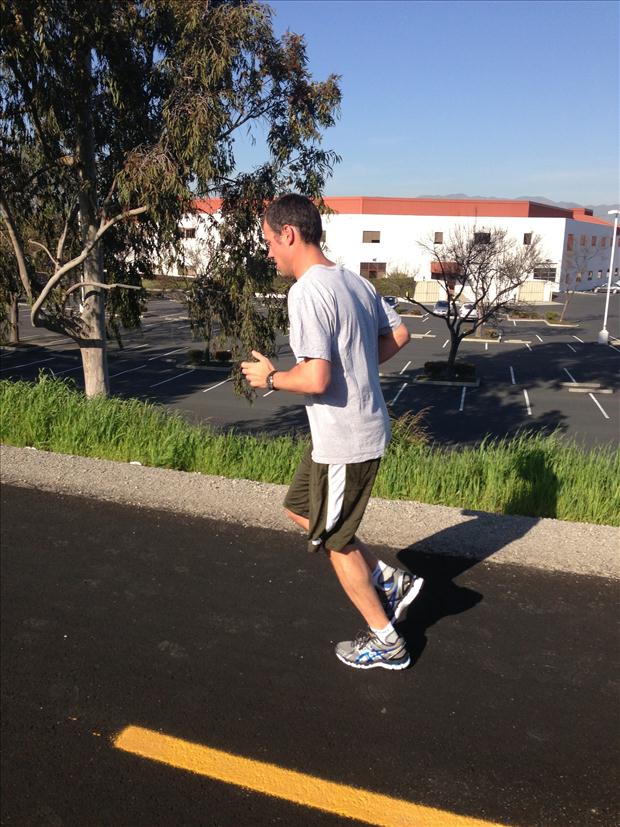 For running on pavement the cushioning is just right for my taste, but if I was running exclusively on paths or softer gravel, I might opt for a shoe with a bit firmer midsole.
For this model, I don't really have too many criticisms except that the all-black and titanium/blue colorways are a touch boring. Luckily for the individual like me looking for something with a little pop, they do offer a black/red or a blue/silver version that has some pizzazz.
Our female reviewer loved her colors that featured pink, charcoal and a neon green pop.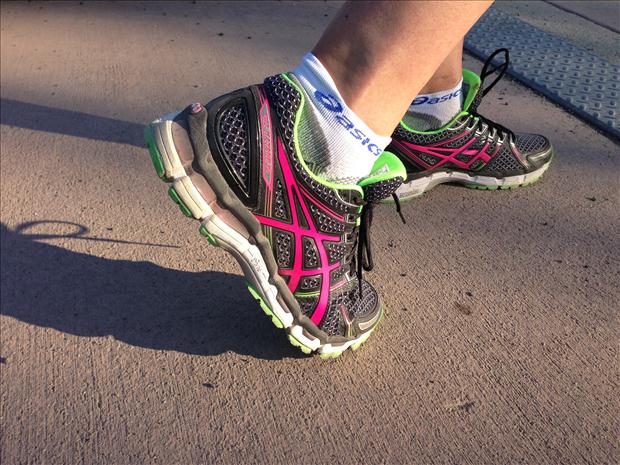 "I've been running consistently for a couple years now and have been through a number of running shoes. The Asics GEL-Kayano 19's are by far my favorite I've tried so far," she said. "My feet a narrow and flat, I need a shoe with great support and these shoes give me just that. Even running on gravel off pavement, I feel supported by these shoes. It's like running on air with the gel heels!"
What's not to like about the GEL-Kayano 19. It's versatile and a good all-around shoe for the beginner all the way to the expert runner. And it's equally comfortable on both short or longer-distance runs.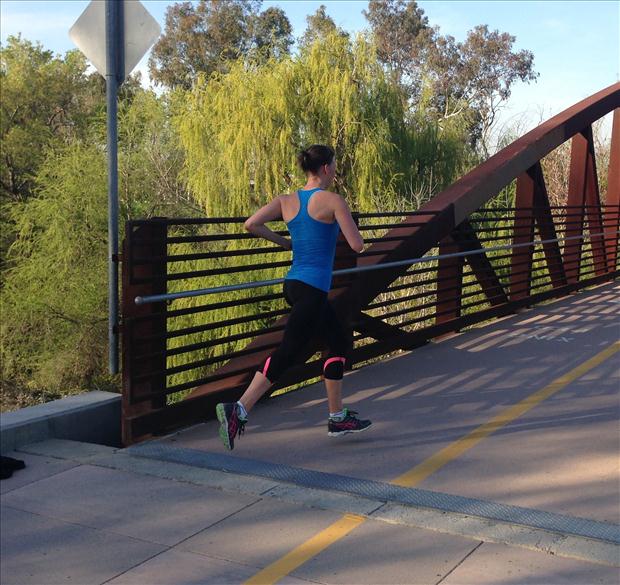 We finished our 5-miler with a fast-kick to the finish over the footbridge that spans the Guadalupe River. For anyone in the South Bay area, the paved areas along the Guadalupe River Trail make a great training spot with flat terrain and nice views.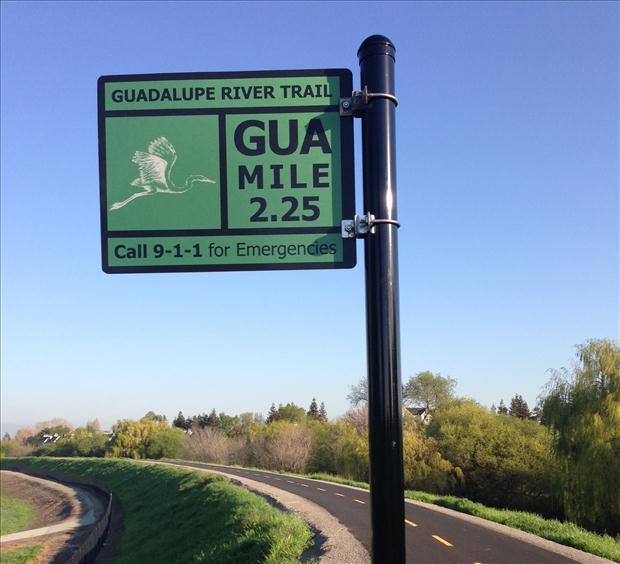 There's nothing quite like a good run on your lunch break. Do you have a good trail that you can run at your office? If so, leave us a comment below!