Run Leggings Compared: The Expert Review
2019 Oct | By SwimOutlet.com Staff
by Loretta Race, Swim Writer & Masters Swimmer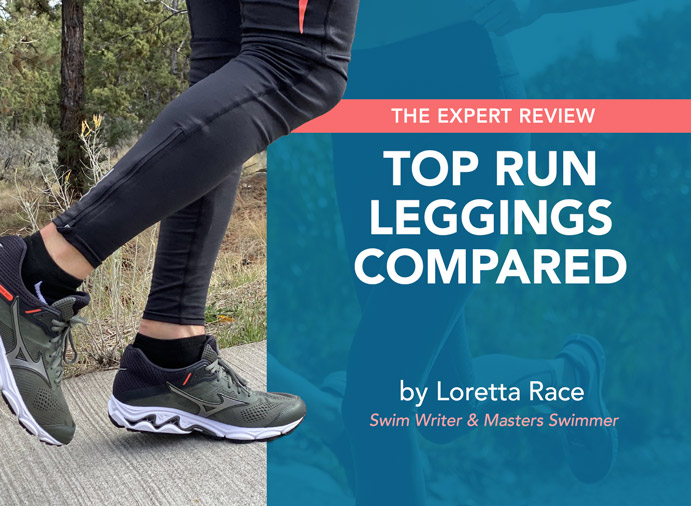 The fall weather has definitely arrived across the country and dryland training now means colder temperatures for your runs and workouts. But the good news is there are more options for run leggings  than ever, so we had our expert reviewer and long-time Masters Swimmer Loretta Race compare six of our top styles (in alphabetical order).
Asics Women's 7/8 Tight ($41.95)
These leggings give off a more 'serious' vibe in that they look and feel like hardcore workout tights. I wore the Shadow Performance Black, which is a sleek black combined with figure-flattering strokes of gray. I somehow felt empowered putting these highly-engineered-feeling leggings on my body.
Asics' D1 Functionality is built into these 7/8 tights, rendering the polyester/elastane fabrics breathable and quick-drying. I liked how these leggings are nice and snug, keeping me warm when I was jogging outside on a cooler morning, but allowing me to not get overheated.
The Asics logo is reflective, but it's not something that should be relied on as a wearer's only source of making him/herself known to drivers if exercise is outside at night.
The waistband included an adjustable cord, which was super thin and could get uncomfortably quickly if tied too tightly. A small pocket is also included in these leggings to house an essential no bigger than the size of a key. A good performance legging all around.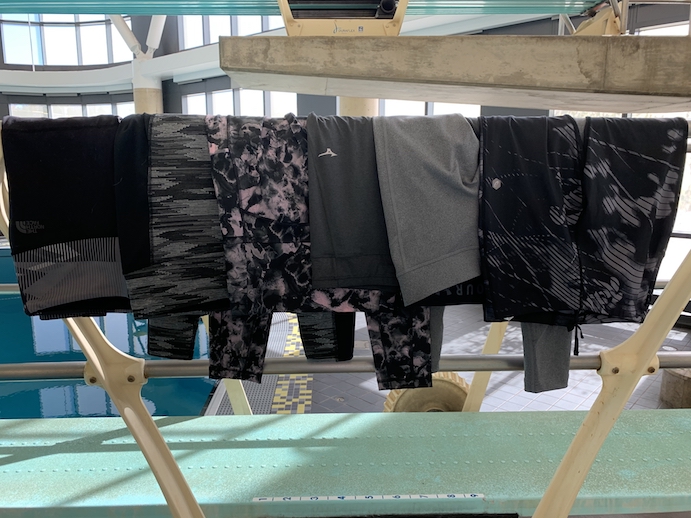 Brooks Women's Greenlight Tight ($55.22)
I've been a fan of Brooks running shoes in the past, so I was interested in how their sneaker expertise translated into apparel like leggings. With these Greenlight Tights I was not disappointed.
The design makes for a very flattering and comfortable set of leggings that look just as good while casually running errands or when working up a sweat. The material is indeed on the thicker side, 81% polyester paired with 19% spandex, which makes these a good option for outdoor running and walking in colder temperatures, but may be a little too warm for inside humid environments.
The waist is mid-rise and has a flat fit that stayed in place when I engaged in high-impact activities. The two concealed waistband pockets are a very valuable feature, as my phone was able to fit snugly inside and stay secured during my workout. One of the pockets is sweat resistant, too.
These leggings also boast a UPF 50+ as sun protection, which is a bonus I didn't even realize I needed in the wintertime sun.
I wore the Black Ikat Jacquard pattern, which was a great print alternative to my usual basic black, and can be paired with everything from tees to tanks to a sweatshirt.
Lole Women's Burst High Waist Ankle Leggings ($105)
There are high-waisted leggings and then there are Lole high-waisted leggings. This brand has really started to make it's mark in activewear and beach wear the past few years and if you are someone who likes more midriff coverage when matching your tights with a cropped tank or sports bra when hitting the gym or running, then this pair is perfect for you.
I fell in love with this garment's material, as the stretchy fabric let my legs breathe nicely in the midst of a hot workout. The leg shafts also have mesh panels behind the knees that added a little more airflow, while also incorporating some style.
The nylon and elastane combination creates just the right amount of stretch, where the leggings are substantial but flexible enough to allow me to move freely when performing squats and lunges.
There is a back pocket and side pocket, both of which are on the small side, but ideal for a keyfob or ID card.
The print offerings made me steer out of my usual black and gray color zone, with the pink salt knick point offering a splash of color to my active wardrobe. These are seriously-engineered leggings with amazing material-- but you'll also pay a serious price.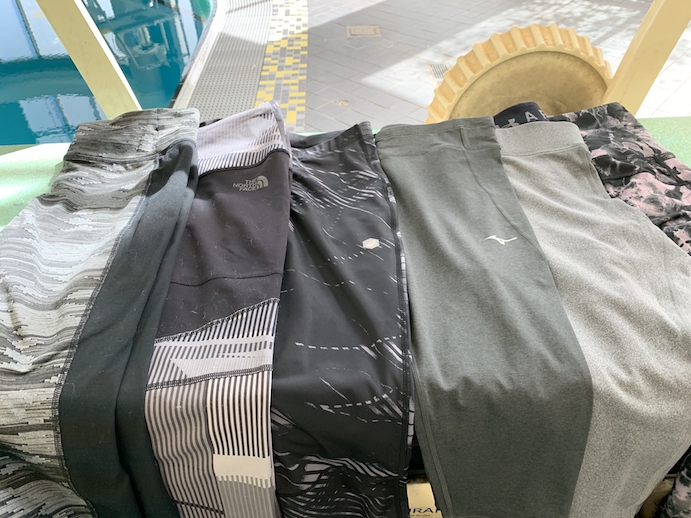 Mizuno Women's Featherweight 3/4 Tight ($29.95)
For a lightweight, cropped option, Mizuno Featherweight Tight is the thinnest pair of leggings of the bunch for warmer temperatures when you just don't want to risk overheating.
The nylon/spandex combination fits very much like a super snug swimsuit and isn't very forgiving when it comes to clinging to every bump and bulge. One may want to consider sizing up with this particular garment, as well as being mindful of which undergarments one wears underneath.
However, the length of the tight makes maneuverability a breeze when performing dryland on-deck and the lightweight fabric meant it dried when I accidentally sat on a wet starting block. A huge plus.
Also, the featherweight material meant I kept cool when getting my heart rate up in the humid pool area so you may want to consider these if you are going to wear them around the pool deck for a while before or after practice
There is a hidden pocket and especially wide waistband, which helped the tights to not ride up during my medium-impact workout.
The North Face Women's Motivated Printed Tight ($51.95)
The North Face Motivated Tight is another high-waisted option for anyone looking for more coverage and support in the stomach area.
Part of the leggings' design includes a very wide waistband, however, which wasn't particularly flattering on my body type. Though, the tights do have an internal drawcord, which is a nice feature to customize the fit.
The leggings' fabric is very smooth and lays nicely against the skin, offering compression while not sacrificing comfort. For my height of 5'6", these tights didn't quite get to ankle length, yet they weren't exactly capris either, which you can see in the product photos. It's a bit of an odd length, but might hit just the right sweet spot for some.
The North Face's FlashDry fabric technology is incorporated into the garment, which is designed to encourage quick sweat evaporation and help keep the wearer dry. I found this to be the case during my HIT workout, where it doesn't take much to make my clothes start getting damp.
Stylewise, I appreciate the striped panels dispersed along the solid black, which provides an eye-catching look without being too loud. The leggings include a small, internal waistband pocket. I'd especially consider these leggings if you do other dryland training activities beyond just running.
Under Armour Women's UA HG Armour Legging ($45.00)
If you're looking for basic, no-frills workout leggings with plenty of stretch, then the UA HG Armour Legging is a terrific option. There's a reason this is a best-seller within this category at SwimOutlet.com
These leggings offer just the right amount of compression to keep you insulated, but the fit is generous and not constricting when you need to flex your muscles and get to work. The Charcoal Light Heather color option is a sleek-looking silver, which looks quite chic for a pair of workout pants.
There are no pockets or fancy construction, but the minimalistic design is a bonus for someone who is looking for simply a dependable pair of leggings that can do it all, whether that be a dryland workout on-deck, running on a track or just walking your dog. I like the subtle logo just past the knee. All-around functionality in a pair of leggings that don't offer too much else.