Interscholastic Coach of the Month Award - March 2018
2018 Mar | By SwimOutlet.com Staff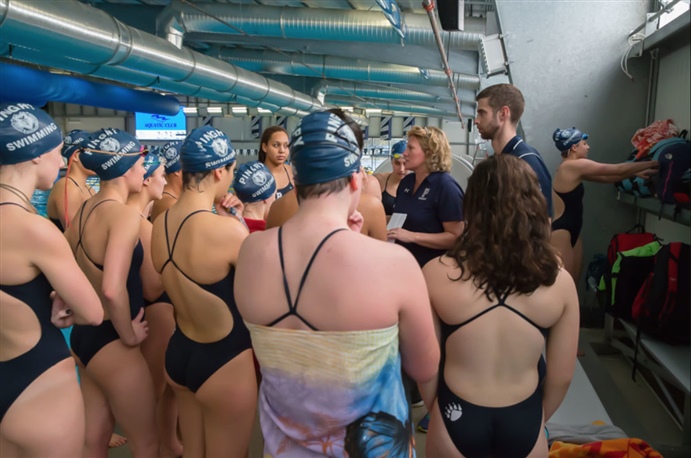 Coaches are the backbone of any swim team and frequently the unsung heroes of an athlete's success. They are the instructors, motivators, teachers and role models for many young athletes and swimmers. That's why it's important that SwimOutlet.com partners with organizations like the National Interscholastic Swim Coaches Association (NISCA). Every month, we recognize a different coach around the country for their tireless devotion to our sport and its athletes with our SwimOutlet.com Coach of the Month Award.
This month's SwimOutlet.com Coach of the Month spotlights Deirdre O'Mara, a 2-year coaching veteran at The Pingry School, from Basking Ridge, NJ. Congrats!
Name: Deirdre O'Mara

School: The Pingry School

Hometown: Basking Ridge, NJ

Years Coaching: 2 years Girls Varsity Head Coach

Biggest Team Success: So far I think the most successful part of my coaching tenure as the varsity coach was creating a cohesive, supportive team culture this year. My long time friend had been the coach for a long, long time and taking over for such a legacy is a challenge for both athletes and coaches so the team dynamic was a big priority for my team this year. Putting effort on this aspect of my program paid dividends elsewhere. We had great season and broke 5 team records, but most importantly I think the girls feel they can go to anyone on the team for help and can count on their teammate support with just about any aspect of their lives.

Favorite Thing About Coaching: One of my favorite things about coaching is watching everyone cheer for everyone else. I love when the captains high five our newest swimmers after a challenging swim in a meet. I love when the club swimmers are cheering insanely for some one that just learned how to execute a flip turn. High school swimming is much more than simply fast swimming in a meet and when everyone supports each other I know my girls understand that too.

Favorite Drill: Underwater training is my favorite drill. We do a lot of variations of streamlines and kicking underwater. I think these skills are essential for creating balance in the water, understanding body position in the water, and overall race technique.