American Swim Fans Enjoy Trip of a Lifetime to Cheer on Team USA
2017 Jul | By SwimOutlet.com Staff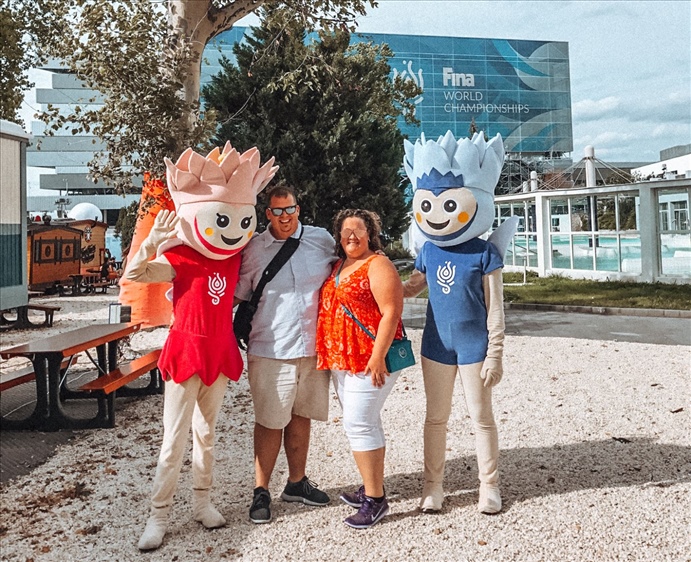 Lori and Josh Lessard of Phoenix, Arizona might not have been the fans that traveled furthest to attend the 2017 FINA World Championships – that might be the Australian fans – but they are probably the most surprised.
That's because the Lessards were winners of SwimOutlet.com's Dream Trip Sweepstakes in partnership with Arena, awarding the trip of a lifetime for two to the 2017 World Championships in Budapest, Hungary. In fact, Lori Lessard was so surprised when she was notified via email as the winner among more than 7000 entries that she had to call to double check that the email she received wasn't spam!

"I swam in high school mostly as a freestyle sprinter and relays and wanted to get back in the pool again for workouts, so I went online to buy goggles and a cap at SwimOutlet.com and that's how I entered," said Lessard during their first night in attendance at the Danube Arena in Budapest. "We have a pool at home and I joined a club, so I could swim again and my husband was like 'but we have a pool already' and I told him, 'no, it's to swim laps.'"

While not competitive swimmers anymore these days – Lori and Josh are both registered nurses – the Lessards were big fans of the U.S. team last year in Rio. "Josh watched ALL the swimming for us," said Lori.

"We have (Michael) Phelps as our hometown guy now in Phoenix, so we feel especially connected," added Josh.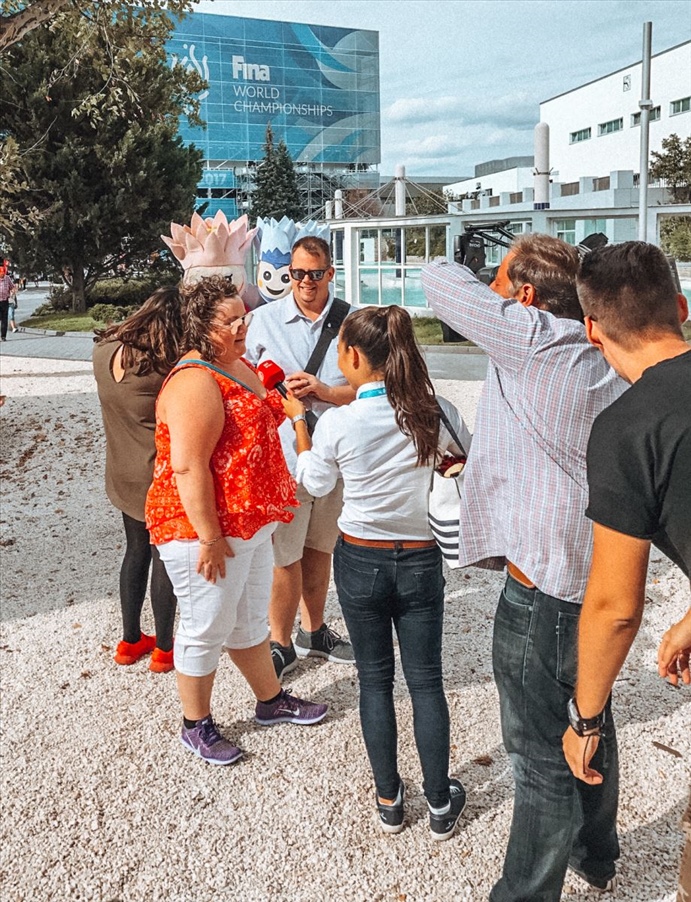 The two especially like cheering on Katie Ledecky and the men's freestyle relay team, both of whom had already grabbed gold on the opening night of the Worlds program.
"And we know Katinka's story, too, with her husband always cheering her on from the sidelines," said Lori referring to Hungary's swim star who has gotten massive ovations this week.

While the pair were enjoying the action in the pool, they had organized their Budapest visit down to the minute.

"Day 1 was doing the Hop On Hop Off bus to see as much of the city as we could, then we walked the old Jewish Quarter the next day and we already have our dinner reservations for the other nights after swimming including a Michelin one star," said Lori with a smile.

If only the competitive swimmers could enjoy that kind of week in Budapest.