10 Easy Ways To Get Back On Track After The Holidays
2017 Jan | By SwimOutlet.com Staff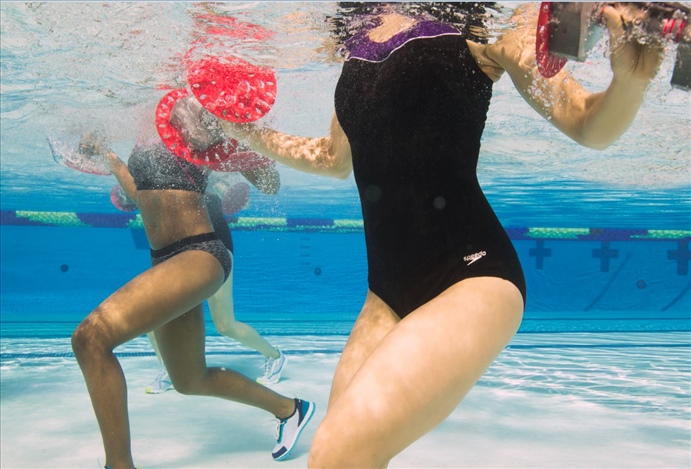 December was more like a month long eating contest, than it was a vacation. Between Thanksgiving, Christmas and New Years, we're pretty positive we consumed half our body weight in comfort food and sugary treats. Not to mention, working out during the holidays seems more like a punishment than it does a healthy routine. So how do you get back in to a fitness groove after the holiday binge?
We're kicking off 2017 with a water fitness week, dedicated to beginning the year on the right foot. To start, we're sharing 10 easy ways to get back on track after the holidays.
1) Set a goal - Setting a goal, big or small, will help you focus on your end result. Whether that's to shave time off of your 100m butterfly, or to show up at the gym more, write it on a post-it and stick it on your bathroom mirror. Once you achieve that goal, set a new one. 
2) Try a new recipe - Make a point to stop ordering take-out by trying a new, clean recipe once a week. It will make eating healthy more fun, and you'll feel a whole lot better than you did after devouring that extra-large pizza. 
3) Buy a new swimsuit - We're not above a good bribe to get us back on track. Buy yourself a new swimsuit or workout accessory so that you'll be excited to hit the pool for practice. 
4) Stretch every morning - Although it seems silly, stretching will be your best friend when it comes to getting back in shape. Stretch every morning when you wake up to jump start your muscles and help them recover from the workout the day before. 
5) Start slow - Even your slowest, shortest workout is still lapping everybody on the couch. Start slow and small, and build your way back up to tip-top shape.
6) Find a workout buddy - Accountability is huge, especially when working out is the very last thing you want to do. Find a friend to hit the gym with, help them achieve their goals and hold each other accountable. Plus, misery loves company (right?).
7) Try a new drill - Trying something new will add an element of fun to your swim. Practice a new drill, or try a new exercise in the pool, like water aerobics or Speedo Fit. 
8) Eat more greens - Whether it's a green smoothie or a kale salad, try to incorporate greens in to at least one meal each day. Before you know it, eating healthy will be a piece of cake (get it?) and you'll feel a lot more energized.
9) Set a workout schedule - It's harder to bail when you have a set schedule. Commit to a swim practice or fitness class to go to at the same time, three days a week. Soon it will become second nature, and you can start adding additional workouts to your routine.
10) Have fun - Most importantly, have fun. Don't kill yourself trying to get back in to shape. Some things will work, and others will not. Be smart about it and put your happiness first.