Tips for Having Fun at Synchronized Swim Meets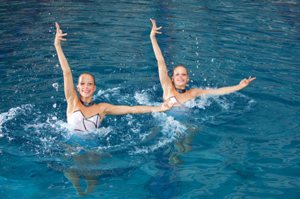 Synchro meets can be nerve-wracking experiences, but they don't have to be! After all, you probably wouldn't have started swimming in the first place if you didn't think it was fun.
When it comes to competing, you've got a lot of control over whether or not you'll have a good experience. The first step is to always have the right mindset. Try these ten strategies for making the most out of your competitive experience.
1. Bring Some Entertainment
At many some competitions, you'll have a lot of time to sit and wait for your turn or next event. Sometimes it takes a while to calculate results before awards. Bring a game, some music, something to read, and spend some quality time with your teammates.
2. Check the Weather
The best plan of attack is to bring layers. This way you are prepared to stay warm or cool enough, regardless of whether the meteorologist got the forecast right.
Even if the meet is at an indoor pool, bring layers. Often the air conditioning is set for a climate more comfortable for spectators and judges than the competitors. You never know what the temperature might be like until you get there.
Always bring more towels than you think you need: At least one for each event, plus one for warm-up. Attempting to dry off with a soggy towel when you are already cold and wet can really put a damper on your happiness.
3. Mentally Rehearse Your Routine
In the time leading up to the meet, envision your routines down to the smallest detail. Imagine the gel in your hair, the feeling of swimming without goggles, and even the walk-on/exit. If you have visualized exactly how you want competition day to go, you're less likely to succumb to nerves and anxiety.
4. Know What to Expect Before You Dive In
When your turn to swim comes up, you and your teammate(s) will be lined up. Your coach will likely be standing near you, at one corner of the pool. All you should have with you at this point is your competition suit and hat, and a couple nose clips. Having a back-up nose clip in your suit is a good idea. Leave your towels, sweats, and goggles in your team's designated area.
After the completion of the routine before yours, you will walk out to the center of the pool deck. Once you appear to be in your starting pose, the referee will blow the whistle. This is your cue that someone in the sound center has pushed play, and that your music will start shortly.
5. Know What Might Happen
Sometimes things don't go as planned. You're better off knowing what those things might be. Maybe the sound guy or gal will have mixed up the order of the routines and start playing someone else's music. Or maybe you realize that the underwater speaking isn't working a few seconds after diving in. Then you might have to, or want to, start over. If either of these things happens, let the referee know as soon as possible. A double-whistle blow by the ref means you can stop and restart without penalty.
There are a number of miscellaneous problems that could occur at your meet. Remember to be flexible and patient. Knowing what could happen will ease your nerves in these cases.
6. Get a Meet Program & Follow Along
You can learn a lot by watching other swimmers. Meets are more interesting if you have a copy of the program and can follow the events. It's fun to see what kind of choreography swimmers from other clubs have come up with, and get an idea of what your competition looks like.
Following along will help you anticipate about how long until it's your turn to compete. To estimate about how long each turn will take, use the length of routines plus a couple minutes for walk-ons and receiving scores. Multiply that length of time by the number of routines that are before you, and you'll get an idea of how long until your turn. In general, it's better to underestimate the time an event will take than overestimate!
7. Go to the Bathroom Before You Go to Line Up
When you finish warming up and have your competition-wear on, make a pit stop in the bathroom. If you don't, you're likely to find yourself hopping up and down and trying to forget that you have to go! Sometimes regular activities like remembering to use the bathroom get overlooked when you're nervous.
8. Line Up with Plenty of Time to Spare
Arrive at the side of the pool where you need to line up several routines before yours so that you don't feel rushed. Don't to add to your stress by missing your order number. The officials will likely wait for you, but this can be embarrassing.
9. Hair, Makeup, & Competition Suits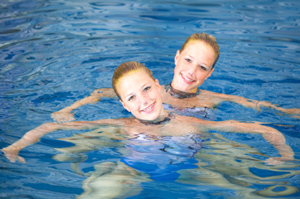 Don't wait until competition starts to finish hair and makeup, or put on your suit. Avoid having to do a sloppy gelling job or forgetting to hook your extra nose clip into the hip of your suit. Rushing, mixed with the adrenaline you already have from being at a meet, can be very stressful.
Sure, there's always the possibility that your headpiece will come loose, or you'll wish you had two back-up nose clips instead of one. But if you realize this with enough time before you swim, you'll have enough time to correct the situation. Being prepared early will allow you ample time to think about your routine, and how much fun you're about to have!
10. Bring Some Friends
What's more fun than knowing that you have a fan club? Synchro is a performance sport, and few things feel better than showing off a routine that you're proud of!
It can also help you feel less nervous. Unlike the judges, your friends will be supportive and impressed, regardless of how straight your ballet leg is!
Remember Why You Swim
The overarching way to have fun at synchronized swimming meets is simple: Remember why you love to swim! Since you're a beginner, chances are you didn't start too long ago. You probably still have a very clear picture in your mind of what you love about this sport. When you're feeling stressed, bring these reasons back to mind and enjoy competing!