The Most Important Surfers of the Classic Era
In the last hundred years, surfing has undergone a deep transformation; what was once region-specific recreation is now a worldwide phenomenon. Along the way, countless personalities — some recognized and others largely unknown — have come and gone, each one leaving a unique imprint on the sport.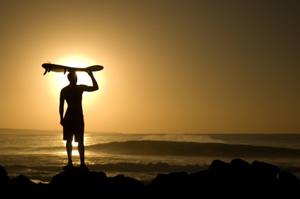 Many will undoubtedly disagree with the selections, and ordering, of the following five surfers. Indeed, these are only a small portion of those personalities who helped transform the sport of surfing into what it is today.
This list functions foremost as a way to acquaint the beginner surfer with just a few of the important figures in the early history of modern surfing.
1. Duke Kahanamoku
More than any surfer before or since, Duke Kahanamoku's impact on the sport of surfing is so profound that it's actually difficult to imagine surfing outgrowing its infancy without him. Born in Hawaii in 1890, the Duke almost single-handedly took surfing from a dwindling, ancient pastime to a recreational mainstay — all within a few decades.
The Olympic champion swimmer gave surfing demonstrations in Hawaii, the mainland United States, and Australia. His celebrity status (he acted in Hollywood movies, and counted U.S. presidents and movie stars as friends) was a vehicle for spreading the Aloha spirit and a beach lifestyle in general, which he did until his death in 1968 at the age of 77. He rode the rollers at Waikiki with style, grace, and dignity, and his natural talent in the water was surpassed only by his ability to share his experiences with the world at large.
2. Tom Blake
More than just an influential wave-rider, Tom Blake's place in modern surfing's short history is solidified by his remarkably diverse list of contributions — from board design to surf photography to spiritual pursuit.
Although Blake excelled as both a swimmer and a surfer, his lasting contributions are due to his role as an innovator, not as an athlete. In the late 1920s, Blake designed the first hollow surfboards, and though they were initially criticized, these lightweight crafts eventually became the standard vehicle for surfing's modern era. A few years later, Blake added a center fin to his boards, revolutionizing maneuverability in one fell swoop.
Blake didn't stop there. His next creation came when he constructed a water-housing for a camera he bought from Duke Kahanamoku. Paddling out at Hawaii's premier breaks with camera in tow, his images were published in National Geographic for the entire world to see. Along with the Duke, Tom Blake gave the world its first glimpse of both the sport and the lifestyle of surfing, ensuring its growth throughout the twentieth century.
3. Phil Edwards
Regarded as the first professional surfer, Phil Edwards gave surfing its modern flair — both on the wave and off. In the 1950s, Edwards rose through the ranks of California's best surfers, riding with unprecedented speed and performing aggressive turns that bordered the edge between control and wildness. As a teenager, Edwards began a relationship with renowned shaper Hobie Alter, shaping boards for Hobie in 1959.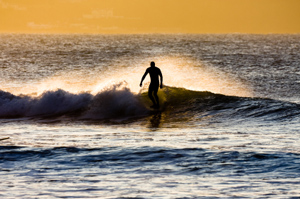 In 1961, Edwards would enshrine himself in surfing lore by paddling out at six-foot Pipeline, a wave that was until then considered too dangerous to ride. Edwards casually stroked into an overhead wave, surfed through the bowl, and rode to the beach, completely altering the surfing world forever.
As the newly assembled surf media began to blossom, so did Edwards' near-mythical status. He graced the cover of Sports Illustrated in 1963, and won the inaugural Surfer Poll that same year.
Edwards became the first surfer to be paid handsomely to travel the globe and appear in surf movies, and although he rarely competed, his pro-model surfboards and regular presence in the media paved the way for the first generation of professional surfers.
4. Nat Young
As a surfer, he's a revolutionary; as a person, he's daunting and complex. But above all, Nat Young is an athlete who changed the entire course of a sport. A standout performer at his home breaks near Sydney, Australia, Young quickly asserted himself as one of Australia's best surfers, guided by the tutelage of the legendary surfer/shaper Midget Farrelly. In 1966, Young built "Magic Sam," a thin square tail that featured a progressive fin design created by George Greenough. He rode the board to victory that year at the World Championships in San Diego, California, performing aggressive new maneuvers that he called "involvement" surfing.
Young's fellow competitors, as well as the media on hand, took notice and the shortboard revolution was suddenly underway. As shortboarding outgrew its infancy in the early 1980s, Young helped restore interest in longboarding, an art that had been all but forgotten. Young won longboarding titles in 1986, 1988, 1989, and 1990, and finished fourth in 1991 before retiring from competition altogether.
He appeared in over 75 surf movies from 1963 to 2001, and contributed countless articles to various magazines and newspapers. He has authored several books, and worked as a model in the 1980s and 1990s, appearing on the cover of Men's Vogue in 1991. Other accolades include a Surfer Poll Award in 1967, and inductions into the International Surfing Hall of Fame in 1991 and Huntington Beach Walk of Fame in 1996.
5. Eddie Aikau
From the beginning, surfing was destined to produce a sporting hero of legendary proportions, but none could have predicted the rise of a man as talented and courageous as the iconic Eddie Aikau. Born in 1946 in Kahului, Maui, Aikau made his inaugural North Shore appearance in 1967, riding giant waves at Waimea Bay with such skill and abandon that he became an instant Hawaiian marvel. He would go on to push big-wave surfing to new levels, and was a six-time finalist in the prestigious Duke Kahanamoku Classic, an event he eventually won in 1977.
Honorable Mention
The following surfers are married to the history of surfing in an absolute sense- without them, the innovations in style, craft, and overall progression would be incomplete:
Greg Noll
Mikki Dora
George Freeth
Skip Frye
George Downing
Dane Kealoha
Bob Simmons
Buzzy Trent
Rabbit Kekai
Bob McTavish
Pat Curren
Herbie Fletcher
His distinctive bow-legged stance was emulated by nearly all big-wave surfers of his time, and was immortalized in 1967, when Aikau landed a shot on the cover of Life magazine. But even his talent in riding huge Hawaiian surf was eclipsed by his embodiment of what has come to be known as the "aloha spirit" — positivity in and out of the water. He worked as the North Shore's head lifeguard, saving hundreds of lives over a span of several years.
In 1978, Aikau was invited to participate in a re-creation of the 2,400-mile ancient Polynesian voyage from Hawaii to the Tahitian chain aboard a double-hulled replica canoe. The canoe left Hawaii on the evening of March 16, sailing directly into a strong northeast trade wind. By midnight, the canoe developed a leak and capsized, leaving the crew hanging on and desperately awaiting rescue. The rescue never came, and at 10:30 in the morning, the boat's captain allowed Aikau to paddle his rescue board to the island of Lanai, 12 miles to the east.
Later that night, a Hawaiian Air passenger jet spotted the canoe's flares, and by midnight, the crew was rescued. Eddie Aikau was never seen again. He died in a selfless act of tragedy, attempting to do what he had done his entire life: help those in peril, and take to the Hawaiian waters without fear.