Swim Opportunities after High School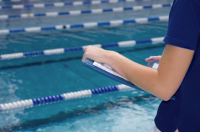 Maybe you didn't make your college team. Or maybe you just can't commit to swimming 30 hours a week. That doesn't mean swimming has to be absent from your life, though. If you still want to swim, you can! Whether you'd like to compete, or just stay in shape, there are many programs you can get involved with. If you're not sure whether you still want to actually swim, there are still ways you can be involved. This guide is full of ideas for what you can do after your high school swimming days are over.
Masters Swimming
USMS is an organization for swimmers ages 18 and above. It provides a program for adults to compete, train, and bond with other swimmers. The team requires less of a time commitment than most college teams. Practices usually last somewhere between 60 and 90 minutes each day.
The coaches will recognize that you have a busy schedule. You won't be penalized if you miss practice. In some ways, this can be great. You can focus on your job, schoolwork, or other priorities in your life. In other ways, it can be difficult to stay motivated to go to practice. There's no one to make you go!
Hot Tip: Motivate Each Other
 If you're having trouble staying motivated to go to practice, swap phone numbers with someone at practice. Make a deal with him: If you don't go to practice for a couple of days, he'll call you and encourage you to come. If he doesn't come to practice, you do the same.
Because you won't get penalized if you have to miss practice, masters swimming can be ideal for students and working professionals. It's easy to maintain a healthy lifestyle without fully dedicating yourself to a rigorous program.
Even though the program is more laid-back, the coaches are often world-class and the practices can be quite challenging.
Another perk to swimming with a masters team: Most teams offer multiple practice times. You can find a time that works with your schedule. If you work during the day, you can attend an early morning practice or an evening practice. Also, many masters teams offer a noon practice for swimmers who would like to work out on their lunch breaks. Masters is great for swimmers who still want to be a part of a team, make lasting friendships, and stay fit.
How to Get Involved
Check out the "Teams" tab on iSport and look up masters teams in your area. Masters teams often practice on — or near — college campuses. Feel free to go to the local college recreational facility and ask them about local masters teams.
Volunteer
If you'd like to be involved with a team — but don't want to swim — consider volunteering at swim meets. Timers, recorders, and ribbon distributors are just a few of the positions that need to be filled at meets. You can participate in the inner-workings of meets, and get a good seat at the same time.
Become a Judge
There's another great way to stay involved in swimming and also feel highly important: Become a stroke and turn judge. You'll get to attend the swim meets, and feel a part of the whole process. You'll also be a lot closer to the action of the swim meet.
How to Get Involved
Find out about the leagues near you. The league committees will have information on how to become a certified judge or volunteer. If you have trouble finding a league, ask your local teams for information.
To become a judge, you'll have to attend a training clinic, and take a straightforward test to become certified. Then you'll shadow another official at five swim meets. After that, you'll get to work at least 10 swim meets a year.
Coach
Coaching is a fantastic way to be involved in the sport while also helping others reach their goals. There are many different types of teams you can coach. Mentioned below are different teams that you can find in your area.
Club Teams
Coaching a club is usually a seasonal job. This is great for students and teachers because you can do it during the summer months. Keep in mind that coaching a club team is a huge time commitment during the summer. You can expect to work from 7am to 5pm most days, as well as additional hours for swim meets. Most programs are structured like this:
Swim practices throughout the morning.
Lessons in the afternoon.
Multiple meets throughout the week, and often on the weekend as well.
Coaching children is incredibly rewarding. If you work for a club team, you'll coach children between the ages of 3 and 18. You will probably work with most — if not all — ages. Helping children achieve their goals can outweigh the time commitment and dedication you put into the season.
USS Teams
If you'd like to coach throughout the year and work with children, USS teams are worth looking into. Once again, this coaching job can be a big commitment. Like club teams, USS teams consist of children ages 3 to 18. Unlike club swimming, though, you will most likely coach one or two specific age groups.
The time commitment during the week might be less than it would be for a club team. You'll probably coach one or two practices in the mornings or evenings, and attend meets on the weekends. Your required involvement also depends on where you are in the coaching hierarchy. The higher up in the hierarchy you are, the more involved you'll be with the team.
Masters Teams
If you'd prefer to coach adults, check out a masters program. Coaching masters can be less of a time commitment, depending on the team. Working with adults is very different from working with children. The way you interact and speak to them is quite different. You can have a casual conversation with an adult. You can explain more technical parts of the stroke as well. This is an important aspect for many potential coaches.
How to Get Involved
Start by looking up teams in your area. Use the "Teams" tab on iSport. After a little bit of research, go speak to local pools. Find out if they're hiring. If you keep in touch with your old coaches, ask them if they know of any teams that are hiring in your area.
Stay Involved
It doesn't matter whether you'd like to stay active, or help other people: Remaining involved in swimming is never a bad idea! There are programs designed just for you to help keep you fit and competing. If you'd like to be involved in the sport in other ways, there are plenty of opportunities for you. Do some research, ask around, and get out there!