Surf Destinations: Southern Hemisphere
For most surfers, traversing the globe for years on end in search of perfect, empty waves isn't exactly a realistic endeavor. While there are more than a few restless souls who have little difficulty forgoing the comforts of the modern world in exchange for feral residency on some remote island atoll, for the rest of us, there is only the gleaming allure of the surf trip. As surfers, we toil for 50 weeks each year in exchange for just a scant few weeks of wave-drenched gluttony. And when our pennies are saved and are bags packed, only one question remains: where to?
Below you'll find an entry-level surf guide covering each ocean-lined region of the Southern Hemisphere. While the assembled information is in no way a fully comprehensive, end-all guide, it should give you a basic grasp of what to expect at some of the world's most popular surf destinations. Once you've chosen an area that fits your criteria, we recommend doing further research in order to fully maximize your time out of town.
Southern Hemisphere
The roaring forties, the furious fifties – whatever you want to call it, the area between the 40° and 50° latitude on the earth's Southern Hemisphere generates some of the most intense wave-producing storms on the planet. For surfers, that is a very, very good thing. The most famous waves in the Southern Hemisphere, including Teahupoo (Tahiti), Jeffrey's Bay (South Africa), and G-Land (West Java), break with remarkable force and consistency during the region's winter months, giving surfers more than enough reason to pack a board bag and head south.
Peru
With an endless array of perfect left-hand point breaks and high-quality beach breaks, Peru is quickly becoming a favorite destination for surfers around the globe. In addition to exceptional wave quality, Peru's fascinating culture and ancient tie to the sport of surfing provides further motivation to surfers looking to explore the roughly 1,600 miles of Peruvian coastline.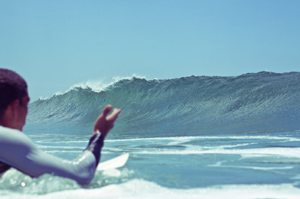 The narrow strip of desert is home to hundreds of excellent surf breaks, many of which have hardly – if ever – been surfed. If the promise of perfect, empty surf and a rich cultural experience doesn't sell you, consider the details of Central Peru's most coveted break: Chicama. The left-hand point break, considered to be the longest wave in the world, breaks cleanly for 1.6 kilometers (approximately one mile), is almost always offshore, and holds from 2 to 12 feet. Don't ask, just go.
Must-Surf Spots: Chicama, Mancora, Pacasmayo, Punta Huanchaco, Punta Rocas, Cerro Azul, Herradurra.
Brazil
Like California to North America, Brazil is the focal point of South American Surfing. With a thriving surf scene and a handful of bustling coastal metropolises, it's true that the Brazilian surfing experience can get somewhat lost in the crowd. Venture outside city limits, however, and un-crowded beach after un-crowded beach beckons. But even in urban zones like Rio de Janerio, travelling surfers can find themselves scoring great waves alongside just a few locals, with sand-bottom breaks turning wind-swell peaks into beach-break perfection.
In terms of culture, you're not going to find anything more colorful and diverse: the food, the music, and the parties are all world-class. Plus, you might even find a few warm-water nuggets to help get you through the daytime hours.
Must-Surf Spots: Praia de Itauna, Arpoador, Prainha, Joaquina, Campeche, Silverira, Ferrugem, Guarda do Embau.
Chile
Chile has long held allure for travelers bent on outdoor adventure, and in recent years surfers have added its enormous 4,000 mile-long coastline to their collective itinerary. A goofy-footer's cold-water dream, the number of quality left-hand point breaks within Chilean borders is mind-blowing, as is the high consistency of surf and lack of crowds. With water temperature varying between cold and very-cold, and wave heights reaching 15 to 25 feet during large winter swells, Chile is no cakewalk – but the wave of your life rarely is.
Must-Surf Spots: Punta De Lobos, Renaca, El Claron, El Gringo, La Bestia, El Colegio, El Buey.
Indonesia
Perfect waves, warm water, and open-ocean exposure to Indian Ocean swell energy – it's hard to find much wrong with the Indonesian surfing experience. Since the 1930s, surfers have embarked on a Mecca-like migration to the island of Bali.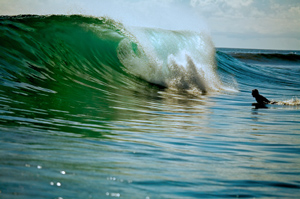 Today, Bali along with nearby islands including the Mentawais, West Java, Lombok, and Sumbawa house many of the world's premier surf destinations, with high-end boat trips coexisting alongside inexpensive beach bungalows. Because of Indonesia's close proximity to Australia, it is a favorite getaway for traveling Aussies, although American, Japanese, Brazilian, and European surfers regularly share in the revelry.
Must-Surf Spots: Padang Padang (Bali), Lance's Right (Mentawais), Canggu (Bali), Kuta Beach (Bali), Macaronis (Mentawais), Lakey Peak (Sumbawa), Periscopes (Sumbawa), Desert Point (Lombok), G-Land (West Java).
India
It definitely isn't your prototypical surfers' paradise, but that doesn't mean you can't score great waves during a trip to the Indian subcontinent. From a surfer's perspective, the major perks include warm water and an almost total lack of crowds. The downsides? A brutal monsoon season and heavily polluted lineups. Embarking on a surf trip to India should probably be left to travelers with a pension for exploration and adventure – you certainly won't find all-inclusive luxury surf camps here. On a side-note, across the Bay of Bengal from India's mainland lie the remote Andaman Islands. Rumor has it that these sparsely populated islands are home to several pristine world-class reef breaks.
Must-Surf Spots: Bheemi Point, Malibupeta, Lawson's Bay, Kumari Point (Little Andaman island), Jarawa Point (Little Andaman island).
Maldives
If you're looking for idyllic warm-water paradise, look no further than the Maldives. Pristine, white sand beaches, crystal-clear water, and perfect waves make this Indian Ocean island nation pretty unbeatable when it comes to surf travel. The drawbacks, if they exist, are that it's not easy or cheap to get to, given the islands' remoteness. It should also be noted that the Republic of Maldives is strictly regulated by the government's Ministry of Tourism, meaning you need to book well in advance with one of the officially sanctioned surf resorts.
Must-Surf Spots: Pasta Point, Sultans, Jailbreaks, Honky's, Lohi's, Ninja's.
South Africa
Given the geographical and cultural expanse of the region, it's tough to properly classify South Africa with any level of conciseness. The most glaringly important detail of South Africa's surfing world is without doubt Jeffrey's Bay, considered by many to be the world's best right-hand point break. From May to September, waves pound the entire eastern cape, and at J-Bay, these powerful swells are often greeted with ideal conditions (albeit chilly water temps) and offshore wind.
Aside from J-Bay, the rest of South Africa also offers exceptionally high-quality waves, notably in and around the Cape Peninsula, the Southern Cape, the Eastern Cape, and the Wild Coast. A trip to South Africa does come with two real hazards, however: sharks and a high crime rate.
Must-Surf Spots: Jeffrey's Bay, Cave Rock, New Pier, Dungeons, Westbrook, Wedge, Nahoon Reef.
Pacific Islands (Tahiti, Fiji, Philippines)
The innumerable islands and atolls of the South Pacific are undoubtedly littered with quality surf spots, some well known and regularly surfed while others still await exploration. The islands of Tahiti, Fiji, and the Philippines, however, all stand in the glaring light of the surf world due to the fact that they're home to some of the best waves on earth.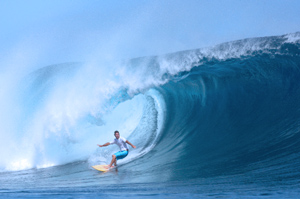 Teahupoo, located on the southern end of Tahiti, is one of the heaviest and most perfect waves in the world. Fiji proudly lays claim to Cloudbreak and Restaurants, both of which are thought to be in the upper echelon of surf spots. The Philippines, although considered a bit less consistent due to its semi-sheltered location, also features a number of world-class surf spots, most famously the heaving barrel at Cloud 9.
Must-Surf Spots: Teahupoo (Tahiti), Cloud 9 (Philippines), Lanuza Rivermouth (Philippines), Puraran (Philippines), P-Pass (Micronesia), Cloudbreak (Fiji), Restaurants (Fiji).
Australia
It's a bit of a cliché, but it's true: Australia is the world's largest island. The thousands of miles of coastline that wrap around Australia offer an endless supply of surf potential. The nation's most famous surf breaks are located on the continent's eastern side, with places like the Superbank, Duranbah, Lennox Head, and Kirra housing some of the best surf – and best surfers – on the planet.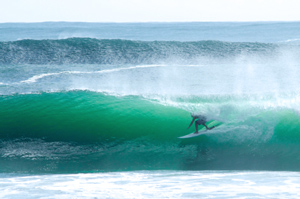 But the excellent surf isn't limited to the eastern coast; Australia's southern and western reaches also offer unbelievable waves. For traveling surfers, Australia is a must: friendly people, limitless wave potential for all skill levels, and a laid-back culture make the "land down under" a land worth visiting.
Must-Surf Spots: Bells Beach/Winkipop, Superbank, Kirra, Duranbah, Lennox Head, Burleigh Heads, Snapper Rocks, Stradbroke Island, Noosa Head, Margaret River, Supertubes, Gnarloo.
New Zealand
The two islands of New Zealand are among the most stunningly beautiful places on earth; if that isn't enough reason to go check it out, just take a look at the surf. More often than not, the surf in New Zealand is somewhere close to epic by, say, California standards. Though you will be wearing a wetsuit, you'll also be sharing perfect point, reef, and beach set-ups with no more than a few locals or visiting Australians – and that's at the more famous spots. Venture off the beaten track and you'll be left quite alone; although with sharks somewhat of an issue, that might not necessarily be a good thing. Be sure to visit the famed point break at Raglan, which offers some of the longest rides of any wave in the world.
Must-Surf Spots: Raglan, Stent Road, Wainui Beach, Mangamanu, Aramoana, Blaketown Wedge.