Surf Destinations: Northern Hemisphere
What's better than surfing your home break with 67 of your closest friends while wearing a wetsuit and a wristwatch that keeps reminding you to get back to the real world – to girlfriends, wives, jobs, and other such nonsense? Two words: surf trip.
Below you'll find an entry-level surf guide covering each ocean-lined region of the Northern Hemisphere. While the assembled information is in no way a fully comprehensive, end-all guide, it should give you a basic grasp of what to expect at some of the world's most popular surf destinations. Once you've chosen a region that fits your criteria, we recommend doing further research so you can fully maximize your time out of town.
Northern Hemisphere
During the Northern Hemisphere's winter season – from September through April – the northern Pacific Ocean becomes a juggernaut of storm and wave activity as the water around the Alaskan Gulf unleashes an annual barrage of wind and high seas. Famed surf locations like Hawaii and North America's west coast receive the brunt of these storm systems and their subsequent wave activity. On the other side of the continent, the North Atlantic brews powerful surges of swell for North America's east coast as well as Europe, North Africa and the Caribbean islands.
California
California offers much more than just good surf. Actually, if wave quality and quantity are your main trip priorities, you probably shouldn't head to America's west coast. But if you want to experience all the offerings that come with an area that's rich with culture (both surf-related and otherwise) and history, California is a great place to visit.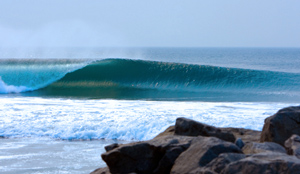 Cities like San Diego, Los Angeles, and San Francisco are among the most visited tourism destinations in the western world, and it's no wonder that many a surfer has heeded the call of California's irresistible beaches. Of course, California can still dish up some very fine surf- particularly in areas like San Diego, Santa Barbara, and Santa Cruz.
Must-Surf Spots: Blacks Beach (San Diego), Swamis (San Diego), Trestles (San Clemente), Malibu (Los Angeles), Rincon (Santa Barbara), Steamer Lane (Santa Cruz), Mavericks (Half Moon Bay).
Hawaii
In the surfing world, there is no place like Hawaii. Period. The history, the waves, the talent level – the Hawaiian islands are at the apex of it all.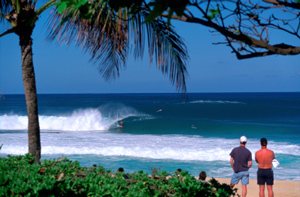 Whether you're an aspiring pro looking to stake a claim on Oahu's North Shore or an average Joe keen on taking in the Aloha spirit along with some great warm-water waves, Hawaii is a must-visit for every surfer.
A point of note: In a place as revered and competitive as Hawaii, showing respect for the islands and their locals is an absolute rule. Break it, and you'll be reminded that "aloha" also means good-bye.
Must-Surf Spots: Pipeline (Oahu), Waimea Bay (Oahu), Sunset Beach (Oahu), Makaha (Oahu), Ala Moana (Oahu), Honolua Bay (Maui).
East Coast, USA
From the northern reaches of New York and Rhode Island down to Florida in the south, the eastern coast of North America offers an incredible variety of waves and conditions for surfers of all pursuits. Though the surf is notoriously fickle, the American east coast provides visiting surfers a chance to indulge in unbeatable sightseeing, with places like New York City and Miami only a day trip away. Surf-wise, the further north you venture, the more consistent the swell gets, although the winter months bring frigid water temperatures to the northern states. The summer and fall months are warm everywhere from New York heading south, and hurricane swells will occasionally coincide with the comfortable conditions to produce flawless, warm-water surf.
Must-Surf Spots: Reef Road (Florida), Sebastian Inlet (Florida), Outer Banks (North Carolina), Casino Pier (New Jersey), Montauk (New York).
Mexico
Since the original surf boom of the 1950s, California surfers have long satiated their collective appetite for waves and adventure by heading south of the American border into the wilds of Mexico.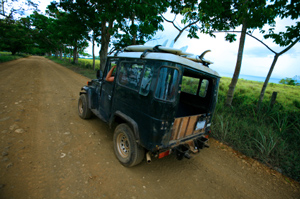 Indeed, the Mexican coastline, from the Baja Peninsula in the north to the southern reaches of the continent's mainland, is one of the most wave-rich regions on earth. An endless array of warm-water surf breaks – some heavily charted and trafficked, others yet to be surfed – await the traveling surfer, as do the perils of travel to the developing world.
Must-Surf Spots: Zippers (Cabo San Lucas), Baja Norte point breaks (Baja Peninsula), Playa Azul (Michoacán), Puerto Escondido (Oaxaca), Southern Oaxaca point breaks (Oaxaca).
Caribbean
American east coast surfers have long held the Caribbean islands in their crosshairs, hopping a quick flight over the Atlantic to sample the numerous warm-water surf spots available in the region. As any right coaster will tell you, scoring good waves in the Caribbean can be somewhat of a crapshoot, as ideal swell, wind, and tide combinations are less than consistent. Still, places like Barbados and the Dominican Republic house a variety of quality set-ups, and countless other island groups are just begging to be explored.
Must-Surf Spots: Soup Bowls (Barbados), Lighthouse (Jamaica), Bahoruco (Dominican Republic), Tres Palmas (Puerto Rico).
Western Europe
Europe is the obvious trip choice for surfers looking for more than just waves. This is where the western world came of age – where castles dot the countryside, museums abound, and art, food, and music add unique flavors to each region. What better way to celebrate your love for surf than taking a break, having a picnic and surfing while you're catching the sites?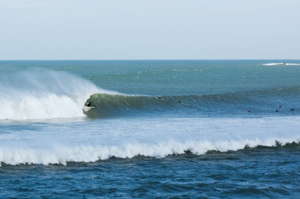 And yes, you can also score quality surf in between touring the Louvre and sipping fine wine. France, Spain, and Portugal are the most obvious choices, but even more unlikely places like England and Italy have their days. Of course, you also have the ancient, cold-water isles of Scotland and Ireland, both of which house burgeoning surf scenes as a result of frequent high-quality surf and improving wetsuit technology.
Must-Surf Spots: Croyde (England), Lynmouth (England), Thurso East (Scotland), Hossegor (France), Graviere (France), Guethary (France), Mundaka (Spain), Supertubos (Portugal).
North Africa
From Morocco down through the northern reaches of the African continent, the equatorial region of North Africa offers visitors an astounding array of high-quality surf and a supremely exotic cultural experience. While North Africa has only been lightly traveled and documented as a surf destination, a little research reveals strong potential, and the promising allure of isolation. Morocco, on the other hand, is a well-known wave magnet that has been a prime target for adventurous European surf-travelers for decades. A handful of world-class Moroccan point breaks have found their way into countless surf-trip itineraries, and a bit of exploration into the unknown is sure to reap plenty of rewards.
Must-Surf Spots: Anchor Point (Morocco), The Boiler (Morocco), Bouznika (Morocco), Killers (Morocco), Mysteries (Morocco).
Central America
Between Mexico and the South American continent lies Central America, home to some of the best, most consistent surf on the planet. From the northern point breaks of El Salvador down to the remote beaches of Panama, Central America presents an alluring – albeit somewhat perilous – destination for adventurous surfers keen on perfection and isolation.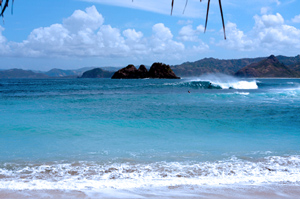 Of course, El Centro isn't all desolation and danger. Costa Rica gives surfers of all abilities and ambition something to write home about thanks to its relatively stable government, strong tourism-based economy, and abundance of high-quality surf spots. For more adventurous souls, Nicaragua, Panama, and El Salvador await exploration.
Must-Surf Spots: Witch's Rock (Costa Rica), Ollie's Point (Costa Rica), Playa Hermosa (Costa Rica), Punta Roca (El Salvador), Zunzal (El Salvador), Popoyo (Nicaragua), Punta Rocas (Panama)
Japan
With a booming surf scene and dozens of quality surf breaks, Japan represents a high-end surf experience for traveling Westerners. Expensive, fickle, and somewhat crowded, the appeal of Japan naturally goes beyond surfing. However, in between exploring the region's world-famous temples and cities, it is possible to score excellent typhoon-generated surf. The seasonal shifts are drastic in Japan, so be sure to book a trip when typhoons are likely and freezing weather is not – in other words, the fall.
Must-Surf Spots: Malibu (Chiba), Shidashita (Chiba), Sendai Shinko (Miyagi), Hungree (Kagoshima), Niyodo (Kochi), Nishihama (Shonan).