Ordering Customized Swim Caps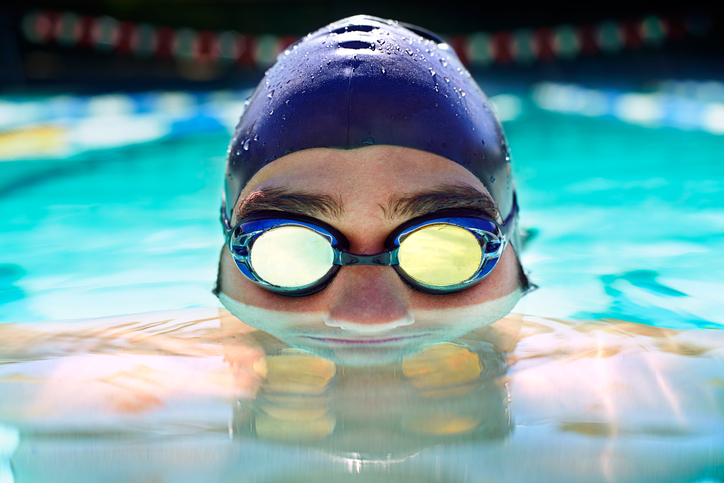 Custom swim caps are designed to unify a team's look both in practice and at meets. Quality swim caps are important for performance, but they are also important for team spirit and morale. With custom caps your swimmers will feel and look like a team!
How It Works
Swim caps can only be customized using a special screen print method due to the type of material they are made of. Screen printing is when pigment is pushed through a screen onto the material itself. SwimOutlet.com does not recommend screen printing logos that have shading and gradients, since each different shade of color counts as a separate color, with an additional cost.
Details
We offer customization for caps to sport your unique team logo or text. We also offer the option of adding the athlete's name. Text and names can be uppercase or lowercase letters. Pricing for custom caps varies on the number of screens (colors) in your logo/text and the type of cap you choose. Production time is 3-4 weeks (once artwork is approved) plus standard shipping. For an additional fee, production time can be cut down to 10 business days and/or shipping can be expedited to 1-2 business days.
Choosing a Cap Type
SwimOutlet.com offers a wide variety of swim caps that you can customize to meet your team's needs. See the pros and cons of each below:
Latex
Latex Caps are made of extensible rubber-like material. These caps are thinner than silicone and cling to the hair and head much more closely. Latex caps are common choice for teams that participate in a lot of dual meets or as a practice cap as they are not the fastest cap available.
Advantages:
Least expensive caps and they offer a tight fit because of its thinness.
Constricts less than a silicone cap and is more comfortable to wear.
Easier to put two latex caps one on top of the other.
Disadvantages:
Certain people are allergic to latex.
Shortest lifespan of all types of swim caps. Tears faster because of its thinness and in time, the chlorine turns the cap sticky.
Check out our Custom Latex Caps
Silicone
Silicone Caps are made of flexible silicone and are a thicker than latex caps.  They also offer a more aerodynamic fit in the water than latex.
Advantages:
Do not generate allergic reactions like latex.
Protects hair well from chlorine.
Last longer than latex cap.
Faster than the latex cap in the water.
Disadvantages:
More expensive than latex.
Less comfortable than latex because it is thicker, less flexible and constricts the head more.
Can slip a little bit more than latex caps.
Check out our Custom Silicone Caps
Dome
Dome Caps are made of high-quality composite polymer silicone material. They have a ribbed band that seals out the water and are considered a must-have for highly competitive races and elite meets.
Advantages:
Lightweight and durable design holds its dome shape and rounded fit with no wrinkles, thus reducing drag by 5%.
Most professionals/Olympians wear latex, silicone or lycra under to achieve optimum performance.
They are seamless, rounded, and can be printed anywhere on the cap.
Disadvantages:
Tight cut.
Shape is not as flattering.
Priced higher than most caps.
How to Order
Browse SwimOutlet.com's selection of Swim Caps and pick the style you want. Contact Team Sales by telephone number at 800-469-7132 or email teams@swimoutlet.com to process your order. Email us your team logo to get the proofing process started!