How to Plan a Tri Season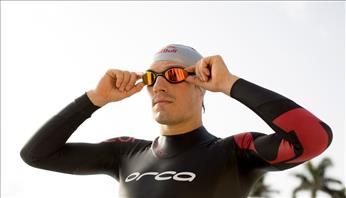 If you're thinking about jumping into a triathlon this year, a little planning will go a long way toward making sure you're rested and ready to tackle a multi-sport event. Whether your goal is simply to finish your first triathlon or claim a spot on the podium, tailoring your training to peak at your target race is critical.
Pick Your Races
Most triathletes will peak for one or two races a year, meaning they will enter the race fully rested after months of hard training for a specific course. For example, if the course features an abundance of hills, it would be wise to practice running and biking on hills more often than flat roads and trails. These peak races are also called "A" races and are the most important events on your calendar. Your training plan should be focused on these events and most triathletes will schedule their A race four to 12 months away. It's helpful to work backwards once you've picked your A race to make ensure you show up on race day in the best shape possible.
You can use additional events as "B" races that will help simulate race conditions. The difference between an A race and B race is the amount of rest you take before the event. For example, you want to enter an A race fully rested in order to turn in your best performance. You may "train through" a B race, thinking about it more as a hard workout than an actual race. Even with this mindset, it's still important to take time to recover from hard efforts.
Periodization Training Method
The periodization method of training involves specific types of training to meet a desired goal. This is a very broad definition, but this method is designed to build your body's ability to handle specific loads that increase over time. Equally important to the stress you put on your body is the amount of rest you take to recover. The amount and type of rest you need will depend on your level of fitness and intensity of your training plan. You may need several rest days a week if you're just starting out, or one rest day a month if you have a strong athletic background. Wherever you're starting, it is imperative to incorporate planned rest into your training plan. Think about each week and month as its own training block. You need to plan rest days within your week and rest weeks within each month. This will help you avoid the plateau effect, which occurs when you do the same training load for an extended period without much variation.
Tapering
A taper is a period of rest before an event designed to help you perform at your absolute best. As a general rule, the longer the race the longer the taper. Some Ironman athletes begin their taper three weeks before their race, decreasing training volume significantly each week. For an Olympic or sprint distance triathlon, you may only need a day or two of rest before your race. Tapering is also an important part of your mental preparation because it allows you to reflect on all the hard work you've done simply to get to the start line of your race. This positive reflection can yield huge payoffs and will increase your confidence allowing you to fully enjoy your race. This is especially important when considering that the true winner is not the person who crosses the line first, but the person who has the most fun!