How to Choose Swimmers' Dryland Training Tools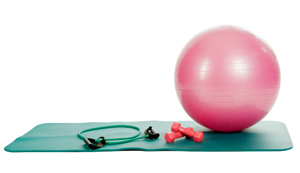 There is a huge selection of dryland training tools available to swimmers. From simple stretch cords to complex stroke simulation systems, it can be hard to know which equipment is right for you. This guide explains the benefits of the different kinds of dryland training tools for swimmers.
Stretch Cords & Resistance Bands
Stretch cords are one of the most popular training tools for swimmers, and it's not hard to see why. Stretch cords and resistance bands allow swimmers to mimic the movements that they make in the water, but with added resistance. Stretch cords can be as simple as a length of rubber tubing, but most include handles, straps, or anchoring clips for ease of use. They also come in varying strengths, so younger or smaller swimmers can choose a resistance level that is right for them. Stretch cords are also cheap and easy to transport, making them great for use on deck, or travel.
Stretch & Yoga Mats
Swimmers who want to stretch before or after their swim often have a hard time finding a comfortable place to do so. Cold, rough pool decks turn into great surfaces for stretching, yoga, or other stationary exercises with the addition of stretch/yoga mats. Lots of swimmers take these mats to practice as well as swim meets, since they guarantee a padded, grippy surface on the deck. If swimmers are doing pre- or post-practice yoga, they may also want to invest in a yoga block and yoga strap.
Medicine Balls
Used as free weights, medicine balls help swimmer build endurance and muscle mass in ways they cannot in the water. Used alone or with partners, medicine balls help everything from balance, to core stability, to explosive power, to endurance. Medicine balls come in different weights, so athletes of all levels can use them safely.
Stroke Simulation Machines
Some teams invest in stroke simulation machines, which are also known as "swim benches." These consist of a narrow platform that a swimmer lies on, and a pulley system for the hands that provides resistance as they simulate "swimming" out of the water. Some also come with breathing tube and pace-monitoring technology. These machines allow coaches to more closely observe swimmers' form out of the water and help them correct technique. Taking the stroke out of the aquatic environment also heightens swimmers' awareness of different muscle groups. Swim benches can be used as a warm up option, or as part of a conditioning circuit.
The Right Dryland Tool Can Make a Difference
Nearly all swimmers can benefit from some form of dryland training. For those who want to increase flexibility, a yoga program and stretching mat is the right choice. Those who want a stronger pull should add stretch cords into their routine. Swimmers who want to improve their explosive power and core strength should start using medicine balls. Those who want to truly perfect their technique should look into swim benches.
Swimming is a wonderful, full-body exercise, but swimmers who add dryland training to their exercise schedule usually see (depending on their focus) an increase in strength and flexibility, as well as an improvement to their technique.