How to Choose Running Shoes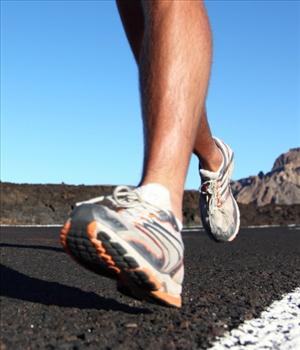 Whether you're a novice or pro runner, picking a running shoe can be tedious. With so many brands, styles, fits and shapes, the options seem endless. Figuring out what will fit most comfortably on your foot and what will also produce your best performance can leave us feeling frustrated. Runners relax; these three simple questions will help you narrow down your shoe choices so you can feel confident picking the best shoe for your foot.
What kind of runner are you?
From trails to the road and marathons to jogs, we all have a different running preferences and with those preferences come different shoe types. Here are the different kinds of running shoes to fit your specific running experience:
What kind of arch do you have?
Knowing your arch type is important when picking any pair of shoes and especially important when choosing running shoes. Making sure you're choosing a shoe that is going to fit your foot arch most comfortably and that is giving your foot the most support is crucial to your foot comfort. Here are the three types of foot arches to look out for:
High: when the ball and heel of your foot do not meet. High arches are characterized by a footprint that is very narrow and curved. Those with high arches need more support in the midfoot area, a medial post in the outsole or a supportive band in the upper area.
Normal: in between a high and flat arch. Normal arches are characterized by a footprint that has a small inward curve of no more than an inch. Those with a normal arch are best suited for shoes with extra stability that use devices such as dual density midsoles and medial posts.
Flat: when there is no inward curve between the big toe and heel. Flat feet are characterized by a footprint that is completely visible and has no inward curve. Flat footed runners need the extra motion control that shoes with firm medial support devices and flatter soles offer.
What kind of stride do you have?
Asking yourself these three easy questions will get you on the correct path to choosing the correct running shoe. Once you select the features you need in a shoe, the only other decision that you need to make is what brand and color to choose!
The way we walk plays a key factor in the kind of support we choose in our running shoes. These are the three most common strides:
Pronation: the foot's natural, inward rolling motion made during a walking or running stride.
Overpronation: an exaggerated form of the foot's natural, inward roll.
Supination: the outward rolling of the foot during a stride.
Those who tend to overpronate need more stability and motion control in a running shoe to counterbalance the inward rolling. Supinators need a flexible, cushioned shoe to absorb road shock while running.