How to Care for a Rash Guard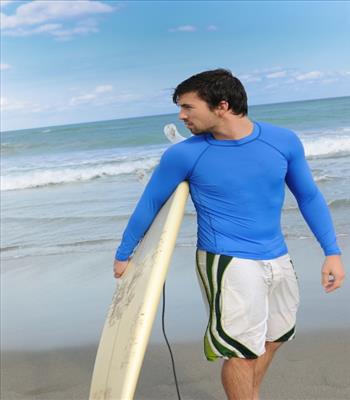 A rash guard is a great investment if you're going to spend time in the water. The harsh sun, sand, and rough waves can be abrasive on your delicate skin. With a rash guard, you'll gain protection from all of those elements. It's important to properly care for your rash guard so you can wear it for seasons to come. In this guide, you'll learn how to properly care for your rash guard.
Always Rinse!
You must hand-rinse your rash guard with cool water right after taking it off. This is a highly important step. Your rash guard is constantly getting bombarded with chlorine, saltwater, harsh sun rays, or natural ocean particles every time you wear it. Rinsing your rash guard with cool water will help remove any fresh residue.
Shampoos
After rinsing, it's time to lather up your rash guard. It's best to use a shampoo or cleaner designed for cleaning rash guards or wetsuits. Biodegradable shampoos are ideal and won't harm the rash guard fabric. Massage your shampoo of choice into your rash guard, making sure to turn the rash guard inside out as well for a thorough clean. Once you are done, rinse your rash guard with clean water to remove any remaining shampoo.
If by chance you don't rinse and shampoo your rash guard immediately, you may start to notice an odor forming. This is due to bacteria. However, there's no need to worry. There are plenty of shampoos available that are focused on removing odor from wetsuits and rash guards. You can also use a mixture of water and baking soda to remove odors. Whether you're cleaning your rash guard in the sink or in a bucket, simply add a cup of baking soda to the water and soak your rash guard in the mixture for 10-15 minutes.
Hang It Up
Once you're done rinsing and shampooing your rash guard, the final step is to hang your rash guard to dry. Wood or plastic hangers are great. The thick, durable nature of a wood or plastic hanger allows your rash guard to hang freely without any pesky shoulder indentations. For this reason, it is advised not to use a wire hanger.
If you are unable to hang your rash guard, you can also lay it flat in a drawer. Laying your rash guard flat is the key to maintaining the shape and longevity. Although it's tempting to toss your rash guard in your car after a long day at the beach, you could permanently damage it. It's best to avoid placing your rash guard in areas of extreme heat like the trunk of your car or outside for long hours. Laying it flat—not crumpled—in a room-temperature or cool area is best.
Enjoy your Rash Guard
Rash guards are available in countless cool colors and have endless features, depending on which one you choose. Protect yourself and your rash guard by properly caring for it. With some basic maintenance, you can keep your rash guard in excellent condition for future uses.