Gear for New Swimmers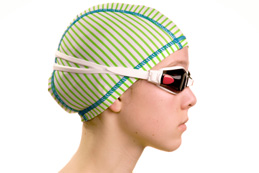 You watched Michael Phelps and Natalie Coughlin win gold. And, like millions of others around the world, you are now thinking, "Yes, I'm going to swim!"
The problem is, your only swim suit is specifically designed to make you look good as you enjoy an umbrella drink on vacation. Do you really need to buy a new swim suit? And what else do you need to get started swimming? Here's our list of 10 essential items for swimmers who are new to the sport or coming out of a long retirement.
First, use our lesson-finder to meet an instructor in your area. Not only will an instructor give your technique the latest updates (swimming technique has changed dramatically in the last 20 years), but an instructor can also help you find the motivation to show up at the pool regularly.
Then use this list to make sure you have all the tools (and toys) you need to do your best impersonation of a gold-medal swimmer.
1. A lap-swimming suit: Reduce drag and move freely with a suit that's designed for lap swimming.
2. Goggles: Goggles not only protect your eyes from chlorine, but also help you swim better by allowing you to see where you are going at all times!
3. Cap: Keep long hair out of your face, and that's one less thing that can get in your way of taking a breath! Plus caps help reduce drag, making your strokes more efficient.
4. Learn-to-swim DVD or video: Keep learning good technique even when you are at home or swimming without an instructor. To see some handy tips, check out the Videos section on iSport.
5. Swim bag: Have a duffel bag, backpack, or a tote dedicated to swimming, and you'll never get to the pool, only to realize you forgot your goggles. Mesh pockets help goggles, caps and other small gear dry between swims.
6. Fins: Swim longer and faster with a little added boost. They can also help you learn proper kicking technique.
7. Paddles: Use paddles occasionally and for short sets to help perfect your stroke. Keep the straps loose and you'll quickly discover where your pull technique is incorrect, because the paddle will pop right off your hand!
8. Flip-flops: There's no need for your feet to brave the locker room floor or the cold pool deck alone. Use flip-flops or other pool shoes to protect your feet.
9. Shampoo/Conditioner: Take "yucky hair" off your list of excuses. Wash your hair with a good shampoo and conditioner immediately after your swim. Both you and your hair will be the picture of health.
10. Warm-ups: Stay warm and cozy before and after your swim. A pair of warm pants, and a jacket or swim parka will keep you toasty, healthy, and happy.
The Bonus List
Have extra room in your swim bag? Are you secretly jealous of the gear-hound in the next lane? Then here are 5 BONUS ITEMS you can add to your swim bag:
    Waterproof Sunscreen: Perhaps this should have made the top 10, but hopefully you didn't need a top 10 list to remind you that a good sunscreen can help prevent skin cancer.
    Pull-buoy: Some pools have a stash of pull-buoys that you can borrow for your workout. Use yours with or without paddles to improve both your technique and strength in the water.
   Kickboard: Again, many pools have kickboards you can borrow. They are great for helping you focus on generating a little, fast, and bubbly (but not splashy!) freestyle kick.
    Water-proof watch: Some pools don't have a real clock on deck! Stop worrying about what time you need to leave, and focus on your workout by wearing your own watch. Plus, you can use it to keep track of intervals. Some watches even have built-in lap counters.
    Tempo-trainer: Swimming speed is closely related to the turnover rate of your arms, and a tempo-trainer can help you find a cadence that maximizes your speed.
That's our top 10 list. What's on your list of things that you can't swim without?