Buying Triathlon Gear
For the beginner triathlete, shopping for equipment can be an intimidating experience. This is due to the integration of three sports into one. However, with a little understanding of the right gear and proper functionality, you'll be surprised how simple this shopping experience can be. Below is a list of essential pieces of triathlon equipment, all of which are necessary for your first race.
Registration Components
Ironically, some of the most important pieces of "equipment" you can bring to a triathlon won't even be used in the race. However, you can't race if you can't register. Registration components consist of:
Official event registration: You should receive this in an email or confirmation letter after pre-registering.
Bib numbers: These are usually given to you the day before, or early the day of, the race.
USAT card: This validates your membership with the sport's national governing body.
Personal identification: A driver's license usually works best.
The morning of a triathlon can be very hectic, so it's best to have these belongings readily available.
Triathlon Suit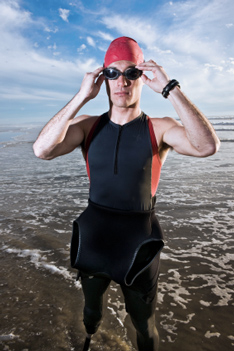 Although not absolutely necessary for competing in a triathlon, it is important to wear a triathlon suit for various reasons:
First and most importantly, it allows for a quick transition after the swimming stage. The triathlon suit, made of a tight-fitting spandex material, goes under the wetsuit and is worn throughout the biking and running legs of the race.
Another important aspect of the triathlon suit is its fit and features. A tri suit fits very tightly on the body, leaving no dangling fabric as with typical gym shorts. This is especially important in the biking portion of the race, as fabric getting caught in the pedals or spokes can be detrimental to your time and safety.
The fabric of the suit not only helps regulate body heat, but it also helps transfer perspiration without dehydrating the skin. Reducing the risk of overheating will have a positive effect on both your comfort and overall performance.
Most tri suits include a padded seats to alleviate the discomfort associated with sitting on a bike saddle for an extended period of time. Tri suits also typically have "fuel pockets," which allow for the storage of gels or other quick-energy sources.
Wet Suit
The majority of triathlons are held in natural bodies of water, like a lake or ocean. That being said, it most likely will be cold, which is why the use of a wetsuit is so important. The warmth provided by a wetsuit not only helps with general comfort, but it also effects important biological factors, such as allowing the lungs to remain expanded throughout the cold conditions. The wetsuit also provides the added benefit of buoyancy, helping to keep swimmers afloat. Additionally, some wetsuits are sleeveless, allowing for greater mobility and range of motion.
Goggles
Although you typically cannot see while swimming in the ocean or a murky lake, goggles are nice to have because they allow you to keep your eyes open throughout the swim. The swimming course of a triathlon is generally marked with buoys that provide swimmers with a clear path of travel, and you will often have to break your stroke to look up and find the buoy. The goggles provide the ability to quickly spot these buoys without having to wipe your eyes. Without goggles, wiping your eyes would be a regular (and annoying) part of your swim.
Swim Cap
The swim cap is generally given to you at packet pickup, where you receive your bib number and other race-related paraphernalia. Swim caps (and their colors) are important, as they distinguish between age and gender groups. As a rule, all participants must wear their designated swim cap throughout the swim.
Swim caps also eliminate any drag that could occur if the participant has long hair, which is particularly beneficial for most women. The smooth spandex material that the cap is made out of also cuts through the water effectively.
Bike
Hot Tip: Save Some Loot
Purchasing a new bike from a retailer can be expensive. You can save some money by shopping for a used bike or an outdated model (which are sold at a discount). A little wear and tear on a bike doesn't hinder its performance at all. If you're in the market for a decent road bike and aren't willing to break your bank for one, try searching the classified ads and asking local bike shops for their used and outdated models.
It is common to see triathletes with bikes full of extra gadgets. With further competitive pursuit of the sport, the integration of these components might become handy, but they're definitely not required. While you first start competing, any decent bike will do.
The important thing is that you know the course's route and elevation, and have a bike that suits the terrain. Many courses include hills, so a multi-gear bike is ideal. And due to the distance involved, a road bike usually works best.
Bike Shoes
Unless you aren't using clipless pedals, bike shoes are just as important as the bike itself. Clipless pedals allow for bicycle shoes to lock in throughout the motion of pedaling; the athlete can push on the pedal, as well as pull.
Because bike shoes allow for a pull of the bike crank, riders can cover distance using their hamstrings rather than their quadriceps (which are activated when pushing on the crank). Pulling with the hamstrings keeps the quads relatively fresh for the upcoming run.
Helmet
Safety benefits aside, triathletes won't even be allowed to compete in the event without wearing a helmet. The quality and shape of a helmet is dependent on how much you are willing to spend, and prices can range from $20 to $500. Obviously, the more expensive the helmet costs, the better quality and the more features you will get. The weight and aerodynamic design will only get better with each dollar you put forward. The only regulation with helmets that the USA Triathlon imposes is that all helmets must feature a locking strap below the chin.
Glasses
It's a good idea to have two towels with you. Lay one on the ground and arrange your gear on it; this is how you set up and designate your transition area. The second towel is for drying yourself after the swim (although drying is not completely necessary). Also, your wet feet will often collect rocks or sand while transitioning from the swim to the bike, so it's nice to have a towel to wipe your feet.
Glasses offer a variety of advantages for triathletes, the biggest of which is that they reduce sun glare. The less glare the easier the bike ride. Additionally, glasses act as a shield to block bugs or dirt that might fly into your eyes. Bike-specific glasses that fit securely on your face, as well as glasses that come pre-mounted to a helmet, are very effective products.
Water Bottle
It is extremely important to remain hydrated throughout the race. Small, consistent sips of a beverage will help lower your body temperature and provide energy. It's wise to mount a water bottle cage on your bike. Running belts are also available for purchase; on these you can mount small canteens and have easy access to your beverage throughout the running portion of the race.
Running Shoes
A reliable pair of running shoes is one of the most important pieces of equipment a triathlete can purchase. Shoes should fit well and provide support. Some running shoes come specifically designed for triathlon use. They feature a bungee-lace system, waterproof material, and special insoles for sockless use.
Bib Belt
A bib belt is great for keeping gel packs handy and your bib number comfortable. Some bib belts feature storage ties for canteens or water bottles. They are extremely light-weight and easy to put on.
Equipment Compliments Performance
This much triathlon gear may seem like a lot to the novice triathlete. However, once you separate your equipment to match the three legs of the race, you will see that it's really not that much. The most important thing is that you have confidence in each piece of equipment.