Best Speedo Kids Goggles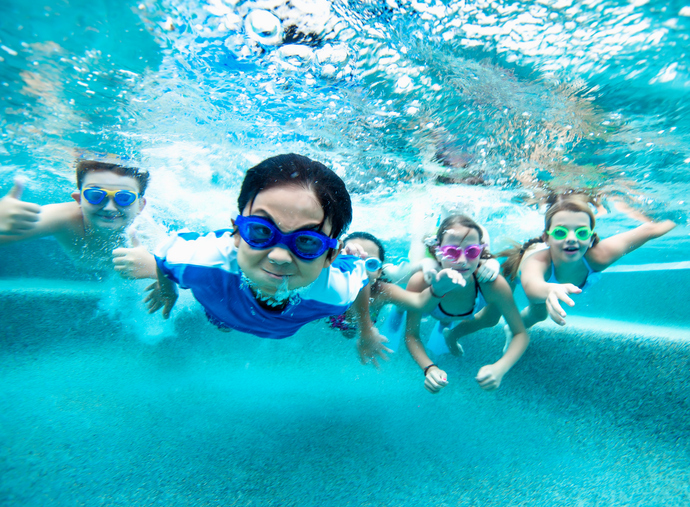 We've talked about Speedo's best competition goggles, and their best recreational swimming goggles, but did you know that Speedo makes several lines of goggles that are designed specifically for children? It's true. Speedo knows how important it is for children to develop healthy exercise habits at a young age, and thus have created several lines of goggles designed to encourage kids to get off the couch and into the pool!
Several of Speedo's competition and recreation goggles come in child sizes, and were discussed in the previous articles. This article is going to highlight the best styles Speedo makes specifically for children, and will help you decide which pair is right for your child.
Speedo Scales and Tails
The Speedo Scales and Tails goggle style comes in a variety of fun, bright colors that your kids will be sure to love. Whether they love pink mermaids or big green dragons, Speedo has you covered. With such fun, eye-catching designs, you may have trouble getting your kids out of the goggles!
The Speedo Scales and Tails goggle comes in four different styles, two with a dragon theme and two with a mermaid theme. The lens has been specifically designed for small eye sockets, ensuring that that the goggles won't be uncomfortable for the swimmer. Soft silicone seals keep the water where it belongs: out of your little ones' eyes.
The strap is easy to adjust, so much so that your little one, with a bit of instruction, could adjust it themselves as they swim, if need be.
However, because of the fun designs, the goggles do not have an adjustable nose piece, which may make them hard to fit on your little ones' face. Fortunately, they are made of a soft, flexible material, so it will fit the majority of children's noses, but it is important to keep that in mind.
But, your little one will be having so much fun with their new goggles, it would be a surprise if they even stop and think about such a thing! And with such great designs, it's easy to see why!
Speedo Skoogles
The Speedo Skoogles are more than just a cute name. These goggles are designed for the littlest of children, between 4-6 years old, who are just getting their feet wet in the world of swimming. They are of a simple design with bright colors that will delight the youngsters.
Speedo designed these goggles for little faces, and as such, they are well fitted for a child's face and eye socket. The frame is lined with a soft seal that won't hurt, even after hours of use. Despite being soft, the goggles are latex free. The straps are easily adjusted, so much so that your child could adjust them while they swim. But they are sturdy enough that they won't come loose once adjusted. Here's a video for adjusting skoogles. https://www.youtube.com/watch?v=KOHP9kk0-TQ
The skoogles may not have many frills, but they do their job and they do it well. With a pair of these goggles, your children won't ever want to leave the pool!
Speedo Splasher
The Speedo Splasher offers bright colors and extra function for a children's goggle, without raising the price. These goggles are colorful, functional, and secure, all backed with the high quality you've come to expect from a Speedo product.
Unlike many other children's goggles, the Speedo Splasher has an adjustable nosepiece, so the goggle lens can be moved to avoid pinching the child's nose. The adjustment is also in the back of the goggle, giving it a slicker appearance and allowing it to be less bulky around the eyes. This will help your children adjust to swimming with more competitive goggles, should they eventually want to swim competitively.
Unlike other goggles, these can be harder for a child to adjust, since the straps are in the back. You would likely need to remove the goggles to make any adjustments.
But with the bright colors, soft seal, and high quality, your child may find that they never want to take these goggles off!
Junior Versions of Adult Goggles
In addition to the goggles described above, Speedo also makes junior sizes of many of its adult goggles. There is the Hydrospex Jr, the MDR 2.4 Jr,  the Futura Biofuse Jr, and many more. For details on these goggles, see the articles for the adult goggles, linked at the top of the page.
No matter which kids goggle you choose, when you buy with Speedo, you know are getting the best goggles on the market. And when you buy them through SwimOutlet.com, you are getting them at a great price. Take a look at our inventory, and help your kids become the great swimmers of tomorrow, today!