A Beginner's Guide to Snorkeling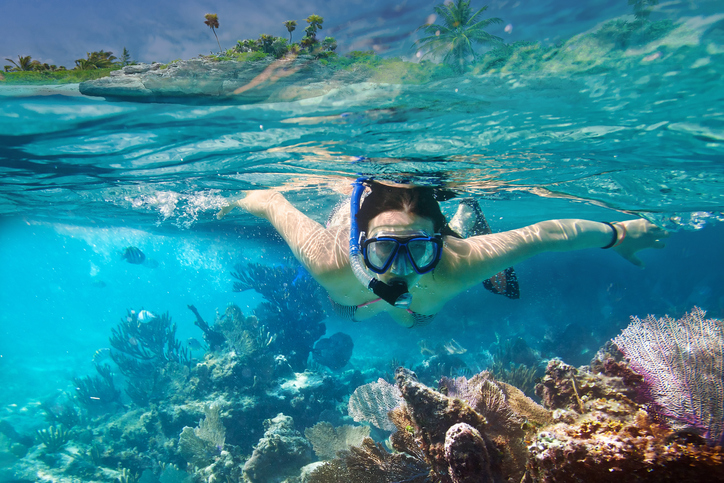 Looking for an inexpensive and easy way to explore the world beneath the waves? Try snorkeling! Snorkeling provides a relaxing way to view creatures and environments underwater. It only takes basic swimming skills, with an emphasis on the ability to float. As far as equipment goes, it only requires a dive mask and shaped breathing tube. Additional equipment is optional, but it can bring you extra mobility and safety.
Equipment
Mask
The best type of mask for snorkeling features wide eye sockets and covers your nose to keep water out of your nostrils. Some masks cover only the eyes and nose, while others provide more viewing space with full-face coverage. It also includes head-strapping that leaves room for easy attachment of a tube.
Snorkel
The snorkel is the tube that allows you to breathe while keeping your face in the water.
Fins
Fins improve your comfort, safety, and mobility in the water by making it easier to swim.
Safety Equipment
In addition to the basics of snorkeling, safety equipment gives you a little less to worry about in the water.
Preparing to Snorkel
Before throwing on your mask and splashing into the water, follow these steps before your first snorkeling experience:
Practice breathing with your mask and snorkel while on dry land, as well as taking the mask on and off.

Test breathing and seeing through the mask in water you can stand up in. Practice at this stage should be done while you stand vertically in the water.

Practice removing water from the tube by blowing it out. You can also work on getting water out of your mask by lifting the bottom.

Float horizontally on top of the water where it is easy to stand up again. Practice breathing this way, and staying relaxed.

Finally, move forward in your horizontal position slowly, keeping your arms alongside your body for less water resistance. Perform this easy motion until you feel confident enough in your breathing to venture out farther in the water.
Start Snorkeling Today!
While involving little physical effort, snorkeling is best done in warm, shallow water on calm days. You want the water to be clear for high visibility, and the less choppy it is, the easier peacefully swimming and viewing from the surface can be. Unlike scuba diving, snorkeling is considerably cheap, and does not require certifications on top of an oxygen tank. Snorkeling is a fun, easy activity to make any day in the water extra exciting. Equip yourself with everything you need to become an avid snorkeler from SwimOutlet.com!